Age Of Decadence Assassin Quest Footage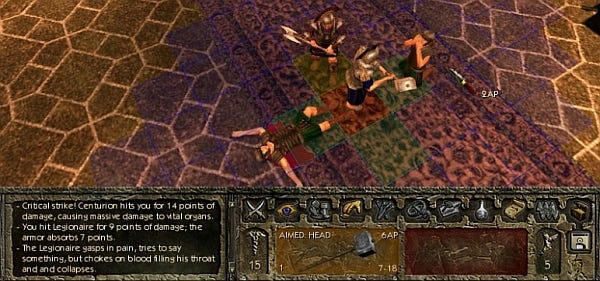 Remember Age of Decadence? Fallout-inspired indie RPG set after the fall of the Roman Empire? Kieron did an A-Grade interview with the angry developer, covering the dearth of dialogue-heavy RPGs and whether turn-based combat in RPGs was, in fact, an anachronism? Well, there's a new gameplay trailer out. Ooh yes, I can already hear you locking and popping with excitement.

In the words of developer Vince Weller himself, "The video shows the second Assassins Guild's quest, the game flow, a night map, fire particles for the easily amused, and the PC fighting with allies (just because you don't have an entourage of emotionally scarred people with troubled past doesn't mean you have to save the world all by your awesome self)."
It's true! You may want to crank this one up to the full 720p, then you'll be able to read all the text. Actually, if you're really interested in Age of Decadence you'd be much better off reading the developer's Let's Play of his own, unreleased game. That's certainly a way of going about things.