Nice weird worlds jamming on the Ambient Mixtape
Slam that tape into your PC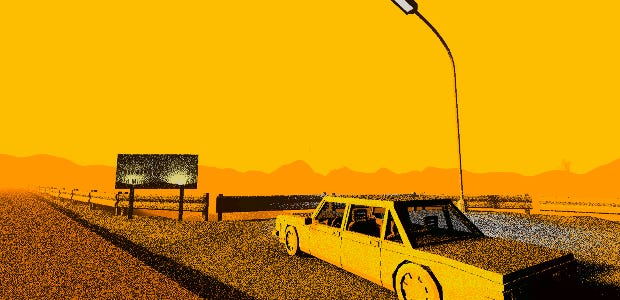 If you fancy wandering somewhere weird and interesting tonight, pop open the casette slot on your cyberdeck and jam in the Ambient Mixtape 16. It's a collection of nine slow first-person games made around the theme "after hours" by nine developers. If you've followed walking simulators and other small interesting games on RPS, you'll likely recognise folks like Connor Sherlock, Pol Clarissou, and Alice Lai. All the games are pay-what-you-want, and will take you to deserted desert highways, inside the Internet, onto rainy city streets, and who knows where else?
All nine developers started out with the same theme and the same bit of first-person code (by Alex Harvey, one of that Tangiers mob). The organisers say the Ambient Mixtape "intends to showcase a diverse spectrum of independent developers and how their process interacts within shared constraints." Yep, there's nice variety in here.
Exit 19 [Itch page] is one of my favourites. Your car has run dry on a deserted road miles from anywhere, a desert with pleasingly harsh lighting. I like the details poking out from the horizon, distant places hinting at civilisation you'll never reach. And I always enjoy fiddling with stuff in cars. It's made by Jack Squires, who you might remember from dying-on-a-brutalist-estate simulator Tonight You Die.
Touch Me2 [Itch page] has a delightfully silly way to interact with things. It's vicious, that poking finger. Its maker, Animal Phase, also made the nice little 8am simulator Morning Coffee.
Panoptique [Itch page] is a teensy peek at the television-headed people running our lives. It's by Empty Fortress, who made the remarkable gunman dating sim Gat Life: Boyfriend Bar.
I Have Been There Twice [Itch page] is a lovely wander through a half-remembered city, one route clear and the fringes a bit hazy. It has a button to sit down, which I'd welcome in more games. In your wake, a trail of sand and little floaty shapes you can bop to make noises. It's a nice little dream. Creator Alice Lai also made 2:22am, which is still the best and dreamiest dream I've seen in video games.
Media Is Dead, You Are Alive [Itch page] is a fun little journey inside the Internet. The digiworld shifts and responds to you in pleasing ways. It's by Jord Farrel, who made Rain and The Blind Hunter.
I have played a lot of games about depression but none have sent me reeling as much as THE HOUSE THAT DRIPPED BLOOD [Itch page]. Dear lord, my eyes are still spinning. I don't know if I've ever seen some of those colours on my monitor before. Its glitchy nightmare is really quite nice to see and hear, fittingly hostile. It's by Astaeria dev Lycaon.
Connor Sherlock's The Migration [Itch page] explores similar ground to some of his other fine games, things like Sanctuary and The Rapture Is Here And You Will Be Forcibly Removed From Your Home. Wander a desert, grooving to music retro synth emanating from little spires, and generally feel you're somewhere you shouldn't be. I so adore how his stark worlds, harsh lighting, and ancient architecture create a feeling a bit like supernatural science-fiction movies or sci-fi horror - somewhere between the big. Ancient, unknowable, all-powerful things. And good tunes. I don't recognise half the stuff in the screenshots on that page so I'm keen to return and see more.
Rotting Crescendo [Itch page] visits a boat on a stormy sea. I made an involuntary "Ooh!" nice when I saw its automatic first-person animation. I'm not that into the puzzle but yes, a nice boat to visit. As much as any grim nightmarish boat can be nice, I suppose. René Rother, who made Whiteout, is behind this.
Lastly, t- e ni hтm-are of·`a c ty [Itch page] is an uneasy, directionless walk through a night city. Pip's written about it in more detail but yes, good stuff. Wonderfully disorienting. It's by Pol Clarissou, the Klondike member who's also worked on Offline, Orchids to Dusk, Night Tune, Even the Stars, and other grand games.
I realise you're unlikely to play all nine off the bat so, er, try Exit 19, The Nightmare of a City, or The Migration and go from there?