Assassin's Creed Odyssey adds new story for free
30-45 minutes for free ain't bad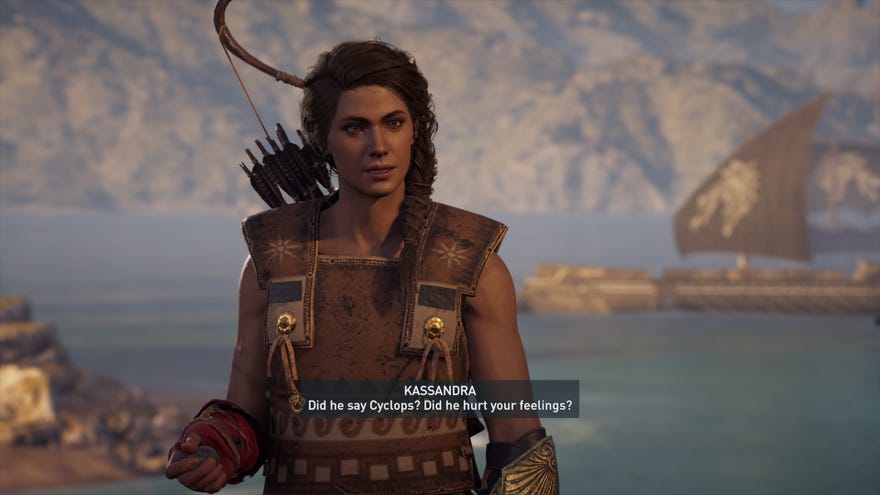 For those looking to kick more people off cliffs and down holes, who somehow find themselves short of Assassin's Creed Odyssey missions, Ubisoft today added a free new story to their open-world murder simulator. This is the first of seven planned storybits, named 'The Lost Tales of Greece', coming as part of Ubisoft's free post-launch plans (paid expansions are coming too, obvs). Named 'The Show Must Go On', the new questline has a theatrical flair and... well, you'll see.
The only hint Ubisoft give is that "The quest giver is in the Elis region and will be accessible from Episode 5." Players are reporting it's taking them 30-45 minutes to complete, which is pretty neat for a freebie (not that the game is starved of quests). I peeked at The Show Must Go On so I could write this story but NOPE that's all you'll get out me.
The quest went live with today's update, a 3.6GB download. See the v1.0.6 patch notes for talk of reducing gear upgrade costs, auto-crafting arrows, and bug fixes, but here's the most important part:
Added a horse sound when equipping horse skins.
Heck yes.
Ubisoft detail more of their free content plans on the game's website. Along with another six Lost Tales where we will "meet new faces, catch up with old friends, and cross swords with formidable foes, they're doing live events with time-limited fights and ship battles and such. The first paid DLC expansion is due to arrive in December, getting tangled with those Assassins again, then the second will poke at Atlantis in spring 2019.