Asus ROG Strix B360-F Gaming review: A great foundation for Intel Coffee Lake PCs
Anything but the B-team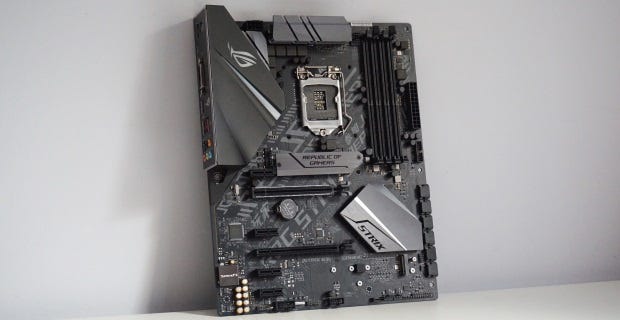 When Intel first introduced their 8th Gen Coffee Lake CPUs, anyone looking to upgrade their processor only had a single choice of motherboard chipset: the rather expensive Z370. Mercifully, Intel have now expanded their 300-series family to encourage budget builders to make the jump too - and the B360 chipset is one of them.
To find out if it's any cop against pricier motherboards, I've got the ATX-sized Asus ROG Strix B360-F Gaming on hand to see what's what - and the results are very promising indeed.
Before we dive into the specifics, it's worth noting that, as we found out with my crop of AMD Ryzen-based X470 motherboards, there will no doubt be other mobos out there - B360 and Z370 alike - that are both marginally faster and slower than Asus' B360-F Gaming. Still, as one of the more expensive B360 models out there (costing £110 in the UK and $130 in the US), it should give us a pretty good idea about what to expect in a best-case scenario.
To test it, I loaded it up with my Intel Core i5-8600K CPU running at its default 3.6GHz (after all, the B360 chipset does not support overclocking), 16GB of Corsair Vengeance RAM running at 2133MHz, an Nvidia GeForce GTX 1070Ti graphics card and a Samsung 850 Pro SSD.
As mentioned above, the B360-F Gaming is an ATX-sized, so you should be able to install the motherboard into any mid or full tower case. It also comes with a rather swish pre-mounted I/O board so you don't have to faff around with fitting a metal plate round the back, and you even get a dash of RGB lighting to help bring a touch of colour to your PC's innards.
Of course, with the B360 being more of a mid-to-low-range chipset compared to the upmarket Z370, the B360-F Gaming doesn't come with a huge number of expansion slots. On the B360-F Gaming, you get just the one PCIe x16 3.0 slot running at full speed, while the second and final one of this size runs at just x4.
That's fine if you're only going to be sticking a single graphics card in your PC, but those after a multi-GPU setup should note this particular motherboard only has support for AMD's 2-way Crossfire tech, not Nvidia SLI. If you're planning to build a PC with more than one Nvidia card inside it, you'll need to look elsewhere.
If you're thinking about adding lots of expansion cards, however, the B360-F Gaming has you well covered. Not only do you get four PCIe x1 slots, but they're also sensibly spaced, meaning you'll only lose access to one of them if you end up using the second PCIe x16 slot - which is more than can be said for other motherboards that tend to cram them in under the main PCIe x16 slot.
Meanwhile, its four DDR4 DIMM slots support up to 64GB of RAM at a maximum speed of 2666MHz. That's not the fastest speed around, all told, but it should still be more than enough for the majority of PC builders out there - just make sure you don't buy RAM that runs any faster, such as 3000MHz+, as you won't be take advantage of it.
Storage-wise, the B360-F Gaming comes pretty well-equipped. You get two M.2 sockets for NVMe SSDs (including a removable heatsink to help keep one of them extra cool), six SATA ports for more traditional 2.5in SSDs, Intel Optane Memory support.
The main benefit the B360 chipset brings over Z370, however, is its USB support. Whereas Z370 boards top out at USB 3.1 Gen 1 support, B360 throws in USB 3.1 Gen 2 as well, giving you even zippier speeds for all your devices. On the B360-F Gaming, you'll find two of these in regular Type-A form on your I/O panel, as well as a single Type-C port.
The B360-F Gaming also gives you plenty of internal fan headers - two for the CPU, a dedicated AIO water pump connector, and another three for additional chassis fans. If all that wasn't enough, there's even a fan extension header as well.
In terms of performance, the B360-F Gaming would make a fine foundation for any gaming PC. Indeed, when I put it up against my Asus Prime Z370-P motherboard (one of the cheaper Z370 boards out there), the B360-F Gaming matched it in almost every test I thought at it - which is pretty impressive when it's meant to be the lesser chipset.
In Cinebench R15, for example, the B360-F Gaming actually came out a fraction in front, scoring 182 in the single core test and 1004 in the multicore test. The Prime, on the other hand, managed 181 and 974 respectively.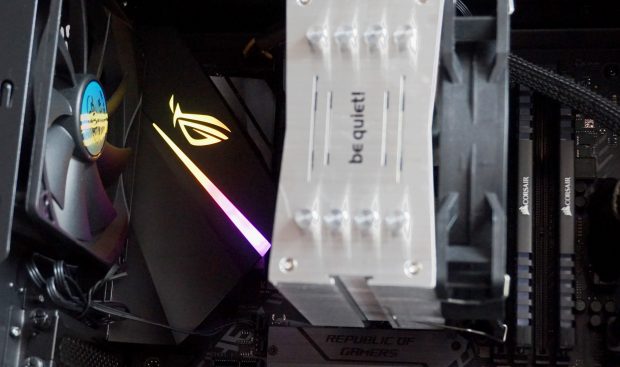 It was pretty close in Geekbench 4 and PCMark10 as well. In both cases, the Prime edged into the lead, but only just - scoring 5054 and 19732 in Geekbench 4's single and multicore tests over the B360-F Gaming's 5000 and 19714 results, and a total of 5694 in PCMark 10 versus the B360-F Gaming's score of 5519.
When it came to pitting it against 3DMark's graphically intense Fire Strike test, however, the B360-F Gaming reclaimed its crown, finishing with a score of 16275 and a combined frame rate result of 41.09fps. The Prime, on the other hand, maxed out at 16123 and a combined frame rate of 40.71fps. Of course, 0.4 frames of a second is hardly massive in terms of a performance boost, but it goes to show you don't necessarily need to go with a Z370 board to get the best potential gaming speeds.
The only black mark against the B360-F Gaming is its storage speeds. In AS SSD's 1GB 4K random test, which reads and writes 1GB's worth of tiny 4K file chunks to random locations on an SSD, the B360-F Gaming managed a decent 30.1MB/s read and 91.1MB/s write, but the Prime came in with scores of 37.6MB/s read and 109.5MB/s write - that's a 25% faster read speed and a 20% faster write.
Still, it's not the end of the world in the grand scheme of things, and the rest of the B360-F Gaming's results are still highly impressive. You'll still want to go with a Z370 board if you've got an unlocked processor you intend to overclock, of course, but for those with locked Coffee Lake processors (the ones which don't have a K in their name), the B360 route is almost certainly better value for money in the long-run than trying to game the system and going for a cheap Z370 board.
Indeed, I should probably point out that the Asus Prime Z370-P is actually marginally less expensive than the B360-F Gaming right now (costing £105 in the UK and $116 in the US), but when you think about the extra USB support you get with the B360 chipset, not to mention the B360-F Gaming's nice pre-mounted I/O board and RGB lighting, you might as well spend the teensy bit extra. Not only do you get a better-looking board out of it, but you also get one that offers superior future-proofing for your devices.
If you're looking to build a new Intel Coffee Lake gaming PC, the Asus ROG Strix B360-F Gaming won't disappoint.