Asus ROG Swift PG258Q review: 240Hz gaming gone mad
Running a red light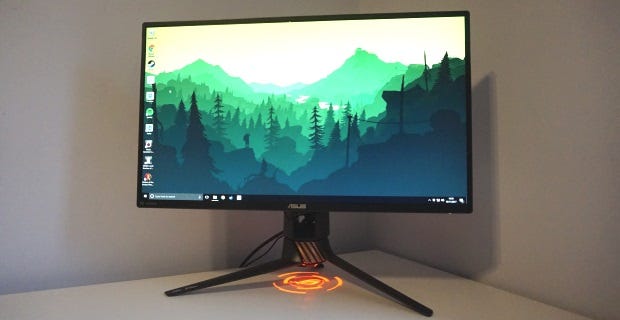 There's something faintly ridiculous about the Asus ROG Swift PG258Q. Maybe it's the fact it has a glowing red Asus ROG light coming out of its elevated, three-pronged stand. Maybe it's the colossal 240Hz refresh rate. Or maybe it's the price, which most retailers currently have pegged somewhere around the £500 mark (or $513 if you're in the US). That's a fair bit of cash for a 25in 1920x1080 screen, especially when the Acer XF270HUA gives you a 27in, 144Hz 2560x1440 display for the same money. Nah, on second thought, it's definitely the light.
Thankfully, its so-called 'Light in Motion' feature isn't a permanent fixture on the PG258Q and can be easily switched off in its onboard menu controls. But for all six of you who really dig this sort of thing, you'll be pleased to hear there's not one, but three different light intensities you can select for maximum gamer cred among your mates.
In all honesty, though, the raised stand and base do actually look quite stylish on your desk, and its bronze twisted metallic design makes a refreshing change from the angular slabs you normally find on heavily branded gaming monitors. Round the back, it gets even neater, as the overall design doesn't just match Asus' eye-like ROG logo, but there's also a cheeky detachable plastic panel you can pop on to hide your DisplayPort, HDMI and USB cables - and that's in addition to a small cavity in the stand itself. Throw in all the usual ergonomic treats you'd expect on a high-end monitor like this (height adjustment, tilt, swivel and rotation) and the PG258Q makes a great first impression.
Like its PG248Q predecessor, the PG258Q comes with multiple colour profiles and an intuitive menu system to help you get a good picture. Fortunately, its 25in 1920x1080 TN panel produced pretty great results straight out of the box, so you shouldn't have to spend long fiddling with the settings.
Annoyingly, the sRGB mode - arguably the most balanced profile of the lot - is completely locked down in terms of adjustment, so you may want to switch to one of the other modes if you do want to make any changes. The sRGB mode still returned good results, though (93.3% of the sRGB colour gamut compared to the 94.3% I managed to get on the FPS mode after a few alterations to the colour temperature), so it should suffice for both gaming and general computing tasks without much effort on your part.
It's also really, really quite bright, hitting an impressive 512cd/m2 at its peak. That's too intense for prolonged use unless you're using it in direct sunlight, so you'll need to adjust it to a level that doesn't make your eyes bleed, but at least there are plenty of blue light filters on hand to help cut down further on any potential eye fatigue.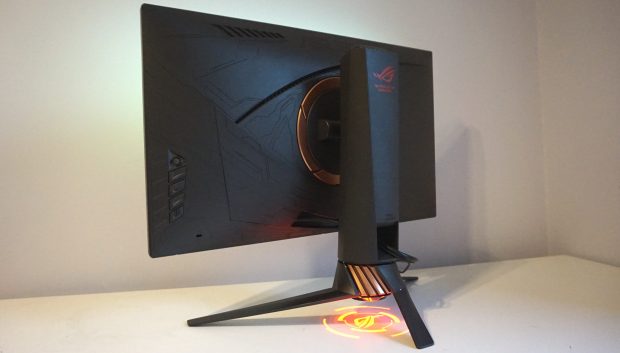 The main downside of having such a bright screen is that black levels suffer as a result, leaving darker areas of the screen looking a bit grey and washed out. I wouldn't mind so much if the contrast level was a bit higher, but my measurement of 949:1 left me a little underwhelmed. It's not terrible, but it's trumped once again by the superior Acer XF270HUA, which produced a smoother gradation from black to white instead of visible chunks of grey like the PG258Q.
Where the XF270HUA can't touch the PG258Q is the refresh rate. Whereas the XF270HUA maxes out at 144Hz, Asus lets you turn it all the way up to 240Hz, essentially giving your graphics card(s) free rein to go bananas with the frame rate, and really make the most of its Nvidia 3D Vision tech if you happen to own the necessary 3D glasses. Admittedly, even the GTX 1080 tucked away inside MSI's monstrous GT75VR laptop struggled to go much above 200fps on Low in Doom, so unless you've got a dual-graphics card setup in your current rig, it's unlikely you'll be able to make use of all those extra refreshes.
Still, even if your current card isn't quite up to the task of doing that right now, you've still got plenty of headroom for later on when you eventually come to upgrade, making it a good bit of future-proofing down the line. Likewise, the extra G-Sync support will also help prevent Nvidia card owners from experiencing any sudden frame rate dips if you do happen to stretch a little beyond your means, ensuring smooth, tear-free gaming whatever refresh rate you're using.
For my money, the Acer XF270HUA is still the best gaming monitor in this particular size category, as it has a better overall panel and a larger resolution. However, if your goal is to play games at 1080p at the best they can possibly be (and fancy a free copy of Assassin's Creed Origins from CCL), then the PG258Q is still a good choice, particularly if you've got an Nvidia graphics card, and I'd definitely recommend it over Asus' PG248Q - just don't expect any sympathy if anyone happens to clap eyes on those red LEDs. For those looking to save a bit of money on high frame rate gaming, however, then the AOC G2460PF is still my top pick for those on a budget.