That's Not A Field: Battlefield 3 Footage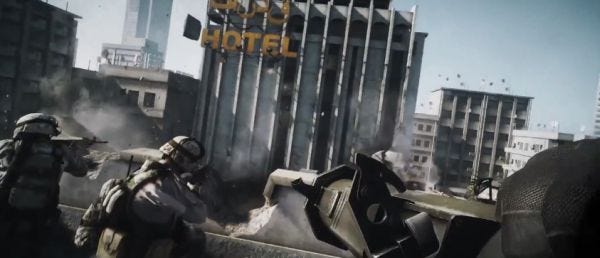 Hurrah - some in-game footage of Battlefield 3 has appeared today. Unfortunately it was sent live by satellite from inside an imaginary warzone, and as such the image quality is quite blurry and sporadic. Because what we want, more than anything else, is confusing, unclear footage that makes it difficult to see the game we're looking forward to playing. Oh, hush me - I am a one to complain. You can see the video beyond the clickzone.
But what about pre-order incentives, you ask. Because you're so conditioned, like a dribbly dog. Well, they've gottem. Here's the ludicrously hyperbolic details:
Battlefield 3 leaps ahead of its time with the power of Frostbite™ 2, DICE's new cutting-edge game engine. This state-of-the-art technology is the foundation on which Battlefield 3 is built, delivering enhanced visual quality, a grand sense of scale, massive destruction, dynamic audio and character animation utilizing ANT technology from the latest EA SPORTS™ games.

The experience doesn't stop with the engine — it just starts there. In single-player, multiplayer and co-op, Battlefield 3 is a near-future war game depicting international conflicts spanning land, sea and air. Players are dropped into the heart of the combat whether it occurs on dense city streets where they must fight in close quarters or in wide open rural locations that require long range tactics.

"We are gearing up for a fight and we're here to win," said Karl Magnus Troedsson, General Manager, DICE. "Where other shooters are treading water Battlefield 3 innovates. Frostbite 2 is a game-changer for shooter fans. We call it a next-generation engine for current-generation platforms."

In Battlefield 3, players step into the role of the elite U.S. Marines. As the first boots on the ground, players will experience heart-pounding missions across diverse locations including Paris, Tehran and New York. As a U.S. Marine in the field, periods of tension and anticipation are punctuated by moments of complete chaos. As bullets whiz by, as walls crumble, as explosions force players to the ground, the battlefield feels more alive and interactive than ever before.

"We wanted to create the most immersive and emotionally powerful Battlefield game ever and we needed new technology to deliver on our vision," said Patrick Bach, Executive Producer. "Battlefield 3 preserves the franchise's signature sandbox style and even brings back classic fan favorites like jets, going prone and 64-player multiplayer on PC."

Those anxious to start the fight can pre-order the Battlefield 3 Limited Edition now at www.battlefield.com. The Battlefield 3 Limited Edition includes Battlefield 3™: Back to Karkand at no extra charge.* This themed expansion pack features four legendary maps from Battlefield 2 boldly re-imagined with Frostbite 2 physics, destruction and visuals. Completing the package are classic Battlefield 2 weapons and vehicles, unique rewards, new achievements/trophies, and more.