Have You Played... BioShock Infinite?
The Jupiter Ascending of videogames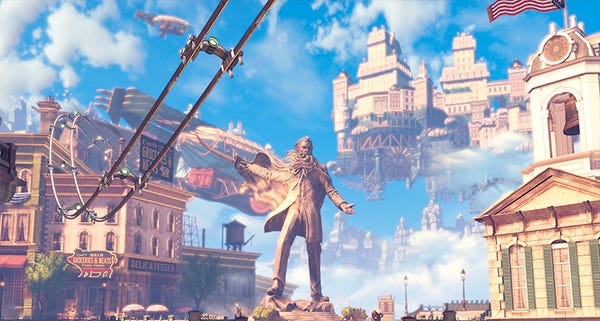 Have You Played? is an endless stream of game retrospectives. One a day, every day of the year, perhaps for all time.
It's not all we hoped it would be, but I liked BioShock Infinite [official site]. Am I wrong?
Yeah, it's not the smartest exploration of race and politics ever made; yeah, it's not as novel mechanically as we might have hoped; yeah, it's ridiculous that you spend so much taking rummaging in bins.
But BioShock Infinite lingers in my memory in multiple different ways. There are stunningly beautiful environments and some of the most striking level design I've ever seen. I liked the combat when it took you swinging along the sky rails. I liked the spectacle of it, whether it was tumbling between floating city districts with Elizabeth or the successive series of nonsensical revelations that form its last act.
BioShock Infinite feels like a big, wrongheaded action film in the best possible way. It's the kind of hot mess that always results from giving a creative person too much freedom and too much money. I think, in a certain sense, it is exactly what I wanted it to be - the Jupiter Ascending of videogames.