Black Desert Closed Beta Launches, Has Character
Staring eyes? Sorta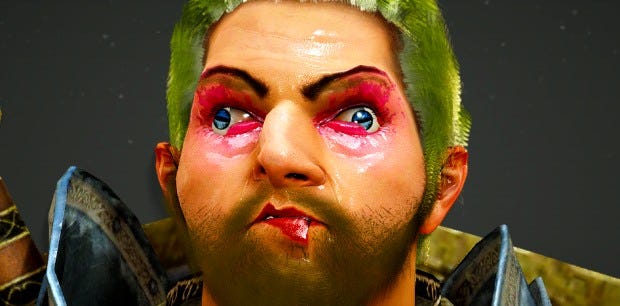 Black Desert Online [official site] is an MMO about sprightly, perfect-skinned warriors doing battle with various grimy monsters. The latter part looks fine, but it's the enormously detailed character creator that let's you influence those sprightly fighters that makes it interesting to me. After being released in Korea last year, it's now in closed beta in the west.
The closed beta runs from 7am GMT this morning till Tuesday 7am on December 22nd. It looks as if all the keys to access the beta have already been sent out, so if you signed up over the past few weeks, check your inbox. Be warned, though: all characters will be wiped when the test is complete. That means no stats or progress will remain but neither will your beautifully created faces.
I've had a play around with the character creator and it is as detailed as advertised. You can pinch, pull and skew faces in twenty different places, causing them to swell or collapse or rotate in ways attractive or terrifying. I can already see the line of celebrity recreations that are going to come out of this, although my talents and patience only stretch as far as shoving all the sliders to the far right and seeing what happens. This is what happens:
I'm not sure if I have interest enough in an MMO to play beyond these customisation screens, but I admit the thought is more appealing given the control it gives you over your appearance. There are trailers showing the prettier things you can make with it, but I'd quite like to scarper around the world slaying monsters as either the Warrior or Ranger above.
Black Desert is due for release in the first quarter of 2016, and you'll need to buy it to play since it's not free-to-play. How novel!