Bloodborne Is Basically A Warhammer Game, And Can We Have It On PC Now Please?
My favourite Souls game, and the coolest one too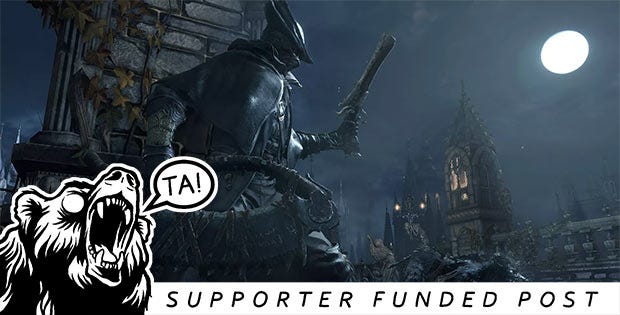 Once I finally cracked the Dark Souls nut, I became obsessed. I understood fully why people fall so hard for these games, and have now become what I once mistrusted. "Oh God, you're turning into one of Them", messaged a mate on Steam the other day, when he spotted me playing the first game at 11pm. Oh, I am one of them. Praise the sun.
That said, I am yet to complete a Souls game, which is not due to a lack of dedication but rather due to wanting to get a sense of what each was like before I settled into one the long haul. Dark Souls 1-3 are on PC of course - but one game isn't. Bloodborne isn't a Dark Souls game, but it is a Dark Souls game. It's made by From, the devs behind 1&3. It fundamentally works the same way and very clearly shares the same technology as the later Dark Souls III. And it's only on PlayStation 4. Which is a great shame, because it's the best Warhammer videogame I've ever played.
Read the rest of this article with an RPS Premium subscription
To view this article you'll need to have a Premium subscription. Sign up today for access to more supporter-only articles, an ad-free reading experience, free gifts, and game discounts. Your support helps us create more great writing about PC games.
See more information