Brawl Of The Wild: Double Fine To Publish Gang Beasts
Undulating surfaces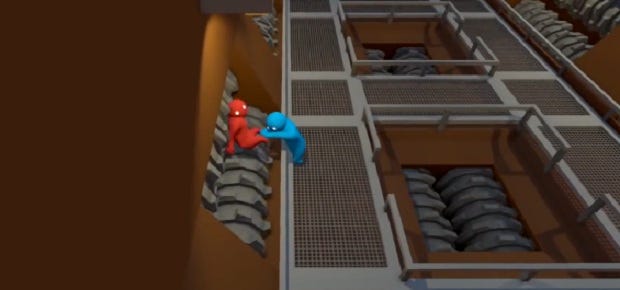 Gang Beasts, even in pre-release form, is one of the best games I've played this year. It's a multiplayer brawling game, with elements of Dreamcast classic Powerstone in among the wrestling and clumsy acrobatics. Whether you're struggling to roll a momentarily unconscious foe out of a ferris wheel carriage, or stumbling headfirst into a meat grinder, Gang Beasts is a wonderful combination of applied skill and improvised farce. The next update, which will coincide with a Steam Early Access launch, places the game under the Double Fine umbrella. Details below.
Ten days. That's how long we have to wait until we see even more of the wonderful jelly-dough combat. The key changes are to the movement and character systems, which will be modified to allow for new terrain types, objects and actions.
We have spent a significant amount of time refactoring and optimising the character system (modifying geometry, joints, and physics forces) to make the character more stable to significantly improve walking on inclines, stairs, and undulating surfaces, and make the climbing mechanic less erratic and more intuitive to control (and to prepare the character for testing a potential water treading mechanic), the revision of the character system was necessary both to implement the additional character moves (slope walking, kicking, climbing etc.), body shapes and sizes, and to allow us to exclusively focus on prototyping maps and character customisations with less need to frequently pause the making of content, to make additional improvements to the character, this should make it significantly less difficult to manage builds etc.
Undulating surfaces.
The Double Fine partnership is the final team-based announcement in a period that saw Bone Loaf move onto full-time development of the game, which should lead to swift and robust updates. Here are some words about level design and implementation.
For the full version of the game we plan to make a number of districts e.g. Meat World (the city theme park), the Industrial Quarter (factory and industrial structures), Shopping Mall (Escalators, Shop Fronts, a Food Hall etc.), the new stages we are working on are an expansion of the Industrial Quarter stages from the pre-alpha prototypes (the Grinder and Incinerator stages), with gigantic industrial fans[vine.co], pipes, cooling towers[vine.co], conveyor belts, steam vents, and other hazardous industrial machinery, a number of the stages have been explicitly designed to test and experiment with the climbing mechanic, and improved character walking on stairs, slopes, and undulating surfaces.
Undulating surfaces.
There's also some discussion of online implementation, although the game will remain local-play only for now. Any work on the networking front is at a very early stage.
I'm not sure what the game will cost when it comes to Steam but for now, the free version is still available. Hopefully that won't change on August 29th.