Crowdfundvania: Castlevania Chap Igarashi's Bloodstained
What is a man?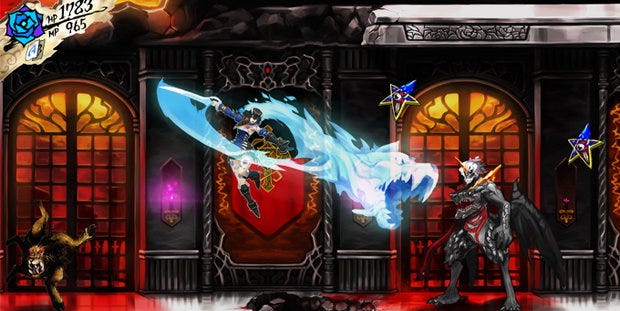 A new RPG from former Planescape: Torment folks, a new adventure game from Tim Schafer, a new Mega Man from the Mega Man man: some game pitches sound such sure-fire hits and strike such nostalgic nerves that they effortlessly breeze past crowdfunding goals. To that list you can now add a new Castlevania from a big Castlevania name.
Bloodstained: Ritual of the Night [Kickstarter] is an attempt to make a new explore-o-punch-a-platformer in the Castlevania style, lead by Koji Igarashi. You know, him who co-directed Castlevania: Symphony of the Night. You know, that one with the line about a man being a miserable little pile of secrets. Ooh!
"Publishers of the world told me that gamers no longer care for this style of game," Igarashi said in the pitch video, sat in a high-backed chair in a spooky mansion, then paused to drain his glass. He tosses his glass to the floor, "But I know they are wrong!" He really does this. It is great.
However, that doesn't mean Bloodstained is funded purely by fans. In fact, a large reason for the Kickstarter is to prove to partners that there's interest. As he told Gamasutra, "All I can say right now is that after over a year of talking with just about every publisher out there, I was able to secure funding for about 90 percent of the game with the condition that I prove the market still wants an Igavania game." It feels a bit gross to ask fans for money to win over investors - who might make a profit from backing it, not like you - but here we are.
Anyway, about the game. It sounds like... you know, Castlevania. You explore a sprawling spooky castle as a young alchemist, killing demons, collecting weapons, levelling, gaining abilities, crafting, and all that. It'll have cooperative and competitive multiplayer modes too. Igarashi most famously co-directed Symphony of the Night - the game which reinvented the series - but he occasionally wrote on the series too and produced it for years, up until 2010's Castlevania: Harmony of Despair.
The Kickstarter was seeking $500,000 (£320k) and yep, that's done. With 32 days still to go, it's around $1.2 million and has hit the first set of stretch goals, which included a second playable character, a 'Nightmare' difficulty mode, and hiring David Hayter, the former voice of Solid Snake. The game's coming to Windows, Mac, and Linux. Pledging at least $28 (£18-ish) would get you a copy of the game when it's finished, which is currently slated for March 2017.
As ever, of course, crowdfunding is a risk. But you know that, don't you?