Cities: Skylines Art Deco DLC Celebrates Player Content
A blast from the past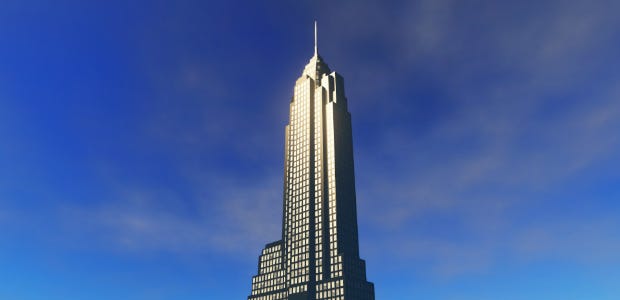 There are tons of ways to modify your Cities: Skylines [official site] experience. With official DLC packs that incorporate anything from bustling nightlife to horrific apocalyptic scenarios, and a bustling modding community, the custom city-building experience you've dreamed of is right at your fingertips.
Paradox Interactive this week launched a new content pack to honor its talented player content creators. The first Cities: Skylines Content Creator Pack is titled Art Deco, and features the work of Matt 'Shroomblaze' Crux.
Art Deco is paid content, and Paradox is asking £3.99/4,99€/$4.99 for this set of 15 buildings. A share of the proceeds goes to Matt Crux. The new DLC honors the iconic architecture and design of the 1930s, letting you create cityscapes to rival the art deco heritage of Shanghai or New York.
The pack comes with a wide variety of buildings. You get your pick of high profile, unique buildings like The Majesty and Pinoa Street, but you'll also find neighborhood favorites such as a charming, old fashioned ice cream parlor, a few hotel buildings, and "Chirpcinema". Residential buildings are getting the art deco treatment, too. You'll have your pick of stylized homes and apartment buildings.
This won't be the only Content Creator Pack, either. Paradox has plans to continue highlighting impressive work within the Cities: Skylines community. That's a pretty swell way to engage with your fans, if you ask me.
Cities: Skylines (along with a bunch of other Paradox Titles) is 75% off this weekend on Steam. Nab it for £5.74/7,49€/$7.49.