Gooaal! Cities: Skylines Adds Free Football Stadium DLC
Bouncy castles too!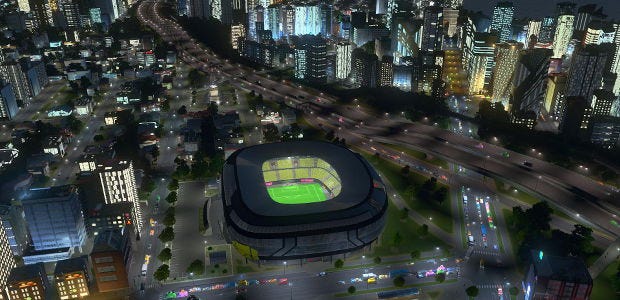 With Euro 2016 'kicking off' [a technical footballing term meaning 'throwing a wobbler' -ballkicking ed.] tomorrow, Cities: Skylines [official site] has brought football home with a little free DLC. The 'Match Day' DLC lets players build a stadium in their city, pick kit colours for their home team, earn a cut of ticket sales, enact stadium-related policies, and - oh god help - try to deal with the increased traffic of match day.
This is accompanied by a new update which gives the city-building game's pre-order bonus DLC bits to all players. Hello, bouncy castles and botanical gardens!
Match Day is free to download from Steam. "Game go!" as they say in footballing.
Also out now is update 1.5.0-f4, which brings a fair spread of fixes and also opens up the pre-order DLC content to everyone. All players now get to brighten up their cities with the Carousel, Dog Park, Bouncy Castle, Basketball Court, and Botanical Garden. That last one is beautiful, with a huge Victorian-looking glass house. And while I'm wary of dogs myself, I certainly do appreciate sitting by a dog park and watching all them little waggy boys.
Check the patch notes for details on all the fixes.
For the record, I have drawn Poland in the RPS Euro 2016 sweepstake.