Crytek's co-op Hunt: Horrors Of The Gilded Age reborn PvP as Hunt: Showdown
See you, monster cowboy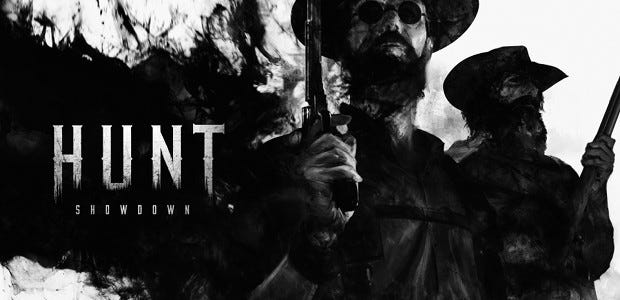 Given Crytek's years of terrible financial trouble and their focus on virtual reality games, I'm surprised by news that they are still working on Hunt: Horrors of the Gilded Age. Well. They sort of are. What was a cooperative third-person action game about monster hunters in the 1800s, which sounded a bit 'Left 4 Dead meets Van Helsing', is now a competitive game named Hunt: Showdown [official site]. It still has revolvers and big cowboy hats but I did quite like the sound of the co-op Hunt.
"Based on the previously announced title Hunt: Horrors of the Gilded Age, Crytek's Hunt: Showdown has taken the original concept in a different direction under a new development team," Crytek said in yesterday's announcement. They call it a "PvP monster hunter" and... that's all we know. Crytek say they'll take more about it during E3 in a fortnight.
Looking at the new 'teaser' trailer, yup, it sure seems to have people shooting each other:
I do hope the monster hunter side makes it more interesting than that trailer suggests.
When Crytek announced Hunt: Horrors of the Gilded Age in June 2014, then made by Crytek USA, they described it as "a third-person action game where up to four players band together to fend off an onslaught of bloodthirsty creatures and track down breathtaking bosses". They also gabbed about "a special content generation system that ensures players never encounter exactly the same environment or set of enemies twice." Sounds promising, dunnit? I wanted to play as these monster hunters:
Only a month after announcing Horrors of the Gilded Age, Crytek gutted Crytek USA, shifted development to their Frankfurt headquarters, and went quiet about the game.
It was a strange repeat of fate for Crytek USA, which was formed in 2013 when Crytek picked up a chunk of the team from Darksiders developers Vigil Games following the collapse of Vigil's owner, THQ. Crytek placed Vigil co-founder David Adams in charge. Then Crytek's own financial troubles really kicked in, Crytek USA was slashed (it later closed), Hunt was taken away, and Adams and other former Vigil folks went off to form yet another studio. That team, Gunfire Games, are now making Darksiders 3.
As I said, I am surprised to hear Hunt exists in any form because Crytek have been in dire straits for years. Recently, in December, they closed five studios after they had reportedly been late paying wages. And in March, Crytek sold their Black Sea studio to Sega, who have made it part of Creative Assembly. Crytek have focused on VR recently too, with games like The Climb and Robinson: The Journey.
Hunt: Horrors of the Gilded Age was supposed to be free-to-play. I've no idea what Hunt: Showdown will be, let alone the business model it'll run under. We should find out in a few weeks at E3.