Best Cyber Monday desktop gaming PC deals 2022
Our picks of the best prebuilt PC deals in the UK and US
All of the best Cyber Monday deals on desktop gaming PCs are, quite simply, the same offers that were up for grabs on Black Friday. I suppose you could grumble that they weren't eighty-sixed in favour of newer, better, Monday-er deals, but if you've been weighing up a new prebuilt PC, think of today as another chance to find a deal you missed.
Generally, I prefer to steer people towards building their own PC. It's cheaper, only takes a few hours at most, and you'll learn skills you can later put to use when upgrading individual components. However, if that's genuinely not a viable option for you, you can at least make sure you're getting a good deal on a prebuilt gaming PC – not just price-wise, but in terms of the hardware as well.
You basically want to avoid systems that use proprietary components, especially cases and motherboards. companies like Alienware and Acer sometimes produce desktop rigs with poor airflow or mobos that make it difficult or impossible to swap around parts in the future, which isn't very in tune with the benefits of buying a gaming PC in the first place. For my Cyber Monday deals picks, I've therefore stuck to prebuilt PCs that use exclusively off-the-shelf components. These will still save you the time and labour of building one yourself, but maintain full customisation potential should you ever want to try tinkering later.
Need a monitor or some peripherals as well? There are many more sales highlights in our guide to the best Cyber Monday PC deals overall.
---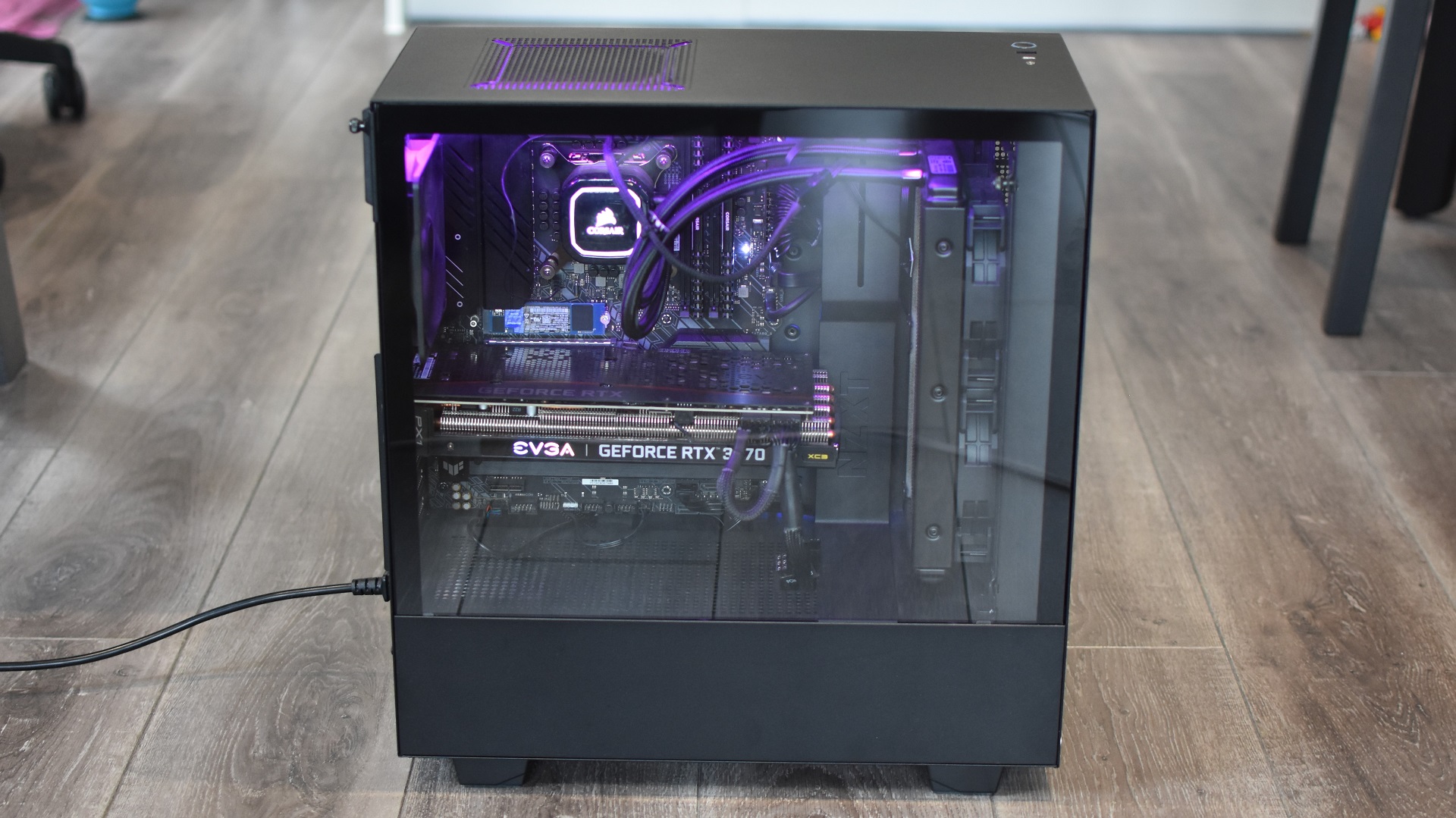 Cyber Monday desktop gaming PC deals
---
UK deals:
| | |
| --- | --- |
| | You'll need to add the code 'BFW30' at checkout to bring this RX 6600 desktop PC down to £821, but you get a newer AMD Ryzen 5600 processor compared to the Horizon 5 desktop listed below. A great price for a 1080p gaming PC. |
| | Only a Ryzen 5 4500 CPU here, but the Radeon RX 6600 is easily handle smooth 1080p. This has a great SSD too - a 1TB Samsung 980 - and you can save an extra £30 off the £904 sale price by entering the code 'BFW30' at checkout. |
| | A mid-range, mid-tower build with AMD's zippy Ryzen 6 3600 and an 1080p-minded RTX 3060. The 450W power supply is the only weak spot. |
| | The best-priced RTX 3060 Ti prebuilt PC I've found so far. It doesn't skimp on the other key components either: there's a Ryzen 5 5600X, 1TB NVMe SSD, and a 750W PSU. |
| | Other than the case and the much zippier RTX 3060 Ti graphics card, this is pretty similar to the Horizon 5 system above - including that nice, big NVMe SSD. Be sure to enter the code the code 'BFW30' at checkout to trim the sale price down from £1186 to £1156. |
| | A low, low price on an RTX 3070 system with an Intel Core i5-12400F, one of the best gaming CPUs of the last generation. You get a 1TB NVMe SSD for storage as well. |
---
US deals:
| | |
| --- | --- |
| | The 8GB of system RAM is just about scraping into modern standards, but with its the Radeon RX 6600 GPU, the Gamer Master is ready and willing for 1080p games. |
| | Save $275 on this RTX 3060 and Intel Core i7-12700F gaming PC. |
| | Not bad money at all for an RTX 3060, 16GB of RAM and nearly 1.5TB of total storage space. |
| | For $100 more than the Trace MR, you can get a clean-looking prebuilt with a significantly faster RTX 3060 Ti and newer Intel Core i5-12600KF processor. There's only 500GB of storage, however, so you might need to add a second SSD in the future. |
| | This improves on the Trace MR above with a huge GPU upgrade, the RTX 3070, as well as a faster NVMe SSD. |
| | Best Buy have lopped $570 off this RTX 3070/Ryzen 7 5700G system - pretty nifty for something that will run most games well at 4K, and will eat 1440p alive. |