WH40K: Dawn of War 3 adding Dawn of War-ier modes
This means WAR. Again. Differently.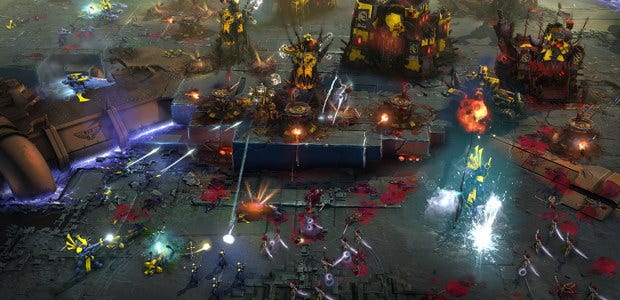 Relic Entertainment say they've been listening to what players think of Warhammer 40,000: Dawn of War 3 [official site] since its launch almost seven weeks ago, and they're going to make some changes. They're adding new multiplayer modes they say are closer to the first Dawn of War, which will "challenge you to wipe out every last Waaagh Tower and Webway Gate to earn that victory screen." They're also reintroducing buildable turrets through Doctrines, for turtlefolk. Hey, don't look at me: they say this is what you wanted. These won't replace the the old multiplayer modes, sitting alongside 'em. Look for the launch in a free update next week.
"[. . .] we're proud of the innovations we've made within the genre, and we think the game is full of potential," Relic said in yesterday's statement.
"But... we're humans who have the internet. We know there are lots of you who don't feel the same way. That matters. We make these games for you, and we need you in order to keep making games.

"Dawn of War III was meant to reunite our Dawn of War and Dawn of War II fans with a bombastic, action-RTS packed with incredible heroes, giant space lasers, and whole, new planets made of things that go BOOM. While we've checked those boxes, it's clear that those weren't the only things that you were looking for. So, what now?"
Well, they haven't revealed the full plan but they will start by adding Annihilation modes.
Annihilation Classic will require players to destroy all their opponent's core structures to win, rather than just their Power Core. Accompanying it will be 'Annihilation with Defenses' mode, which starts players with several turrets already up on the map - "buying you more time to build up your army", Relic say. Annihilation modes will work on all maps.
As for buildable turrets, they'll be a Doctrine available across all multiplayer modes (not the campaign) and given free to all players without a need to pay the 'Skull' virtuacoins.
This update is due next Tuesday, June 20th. It'll also bring a new map, Mortis Vale, and free new skins for the Imperial Knight Paladin, Wraithknight, and Gorkanaut.
Relic do have more plans to rework and improve Dawn of War 3, but they're not talking about those yet.