Sign up for the Dawn of War 3 multiplayer open beta
Get ready for waaagh!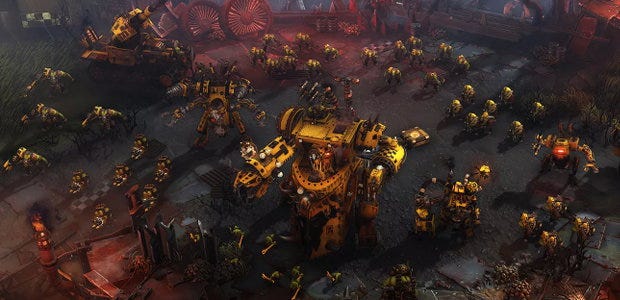 Signups have opened for the Warhammer 40000: Dawn of War 3 [official site] multiplayer open beta test due to run later this month. The open beta will let all and sundry play a limited slice of multiplayer from April 21st to 24th, ahead of the RTS's proper launch on the 27th. It'll have all three factions, though not with all their customisation options and Elite units, along with three maps. After reading Fraser Brown's Dawn of War 3 preview, I'm certainly up for a weekend of waaagh!
If you want in, sign up over here. You will need a Relic account as well as Steam. The beta will run from 10am PST on Thursday, April 21st until 10am PST on Monday the 24th (that's 7pm UK time - unless Sega got confused and meant PDT, in which case it's 6pm). Beta keys will start arriving in inboxes on the 12th, then beta pre-loading will begin on the 18th.
It'll pack 1v1, 2v2, and 3v3 battles against other players -- no AI scraps in the beta -- for all three factions on three maps. Beta factions will only have six of their eighteen Doctrines, which give special buffs and abilities, and only five of their fifteen Elite units. I wonder if I can round up some of my old 3v3 DoW 2 teamies.
Check this FAQ for more on the open beta. But what's it like to play a short burst of Dawn of War 3? Fraser wrote after his preview stretch:
"It feels like Relic are doing something new. When Dawn of War 3 does seem familiar, it's in the same way that a lion and a chimera seem similar. Systems have been tweaked and contorted and reimagined so that there are myriad surprises, even for someone who is an old hand when it comes to RTSs. There are so many moving parts that it can be a little intimidating, however. Even the maps have these twists, like long grass or smoke-filled areas that render units invisible, or interactive objects that lower bridges and open up new paths. Diving into the multiplayer as I did, it can be as confusing and cluttered as it is thrilling and complex."
And can I pet this chimera?