Dead by Daylight summons free trial weekend
Show those teens what for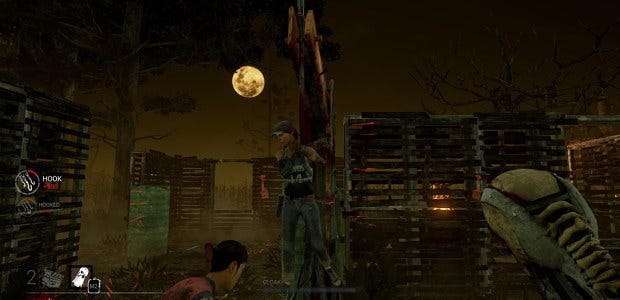 4v1 teens versus psycho killer (qu'est-ce que c'est?) chase 'em up Dead by Daylight [official site] has launched another free weekend, inviting all and sundry to play the full game for free for several days. When Rich McCormick recently visited the game to see how much a year of updates had improved it, he was jolly pleased with the game it has become. If you want to hang teenagers on hooks to sacrifice them to dark gods or try to escape a manifestation of your anxieties about your transition to adulthood, you might fancy giving it a go.
Download Dead by Daylight through Steam and you'll have until 9pm on Sunday (1pm Pacific) to play.
If you take a shine to it and want it for keepsies, Dead by Daylight is on sale right now too. A 50% discount brings it down to £7.49/€9.99/$9.99 until Monday. The game's DLC packs, most of which add new characters and maps, are half-price now too. I gabbed about Dead by Daylight a lot with Adam last week and I know he's a fan of The Hag, who lays traps that pop up copies of herself and which she can teleport to.
Back to Rich's recent thoughts on playing teens or killers:
"I got tired of that, eventually, the panic of a chase slowly replaced by a dull dread as the killer stunned me for the third, fourth, fifth time. But when that happened, and I wanted to turn the tables, I could just pull on my human-skin mask and play the other side of the power fantasy. In its current state, Dead by Daylight is two horror games for the price of one: both speckled with minor frustrations, but both regularly as tense, tight, and scary as a really good horror flick, and with more variety than you would expect from a genre picture."
That's probably worth a go for free. Having promised Adam I would check it out, I'll have to see for myself.