Dead By Daylight codes [October 2023]: Free Bloodpoints & Cosmetics
All the Dead By Daylight codes you can redeem right now
Looking for all the latest Dead By Daylight codes to redeem? Dead By Daylight is a classic wish fulfilment video game, assuming your wish is to be eviscerated by your favourite horror movie monster. However, if you want to avoid said evisceration, then redeeming Dead By Daylight (DBD) codes is a great way to give yourself a bit of extra help.
Every so often the devs at Behaviour Interactive will release a code that you can redeem in-game. Most of these codes will give you a certain number of Bloodpoints for free, which are important for upgrading your characters by unlocking perk slots, and also for setting up new characters. Below we'll walk you through all the currently working DBD codes you can redeem, along with information on how to redeem them.
---
On this page:
Dead by Daylight codes [October 2023]
Last checked on 2nd October, 2023
Below are the currently active codes that you can redeem in Dead by Daylight:
DANKE: 200,000 Bloodpoints
GAMSAHABNIDA: 200,000 Bloodpoints
BOOP: Boop The Snoot Mask
FLAGB: Bisexual Pride Flag Charm
ISFLAG: Intersex Pride Flag Charm
PANSEXUAL: Pansexual Pride Flag Charm
FLAGT: Trans Pride Flag Charm
AFLAGG: Agender Pride Flag Charm
GFLAGF: Genderfluid Pride Flag Charm
NBFLAG: Nonbinary Pride Flag Charm
GFLAGQ: Genderqueer Pride Flag Charm
AFLAGS: Asexual Pride Flag Charm
LETSROLL: Dwight Charm
WARRIORPUPPERS: Warrior Puppers Charm
CAWCAW: Feathers of Pride charm
PRIDE: Rainbow Flag charm
PRIDE2022: Progress Pride Flag charm
In addition to codes anyone can redeem, Prime Gaming members often have the chance to claim exclusive Dead By Daylight loot. The current special item is a pack of 400,000 Bloodpoints. DBD fans have until Wednesday, 4 October 2023 to claim the latest Prime Gaming loot.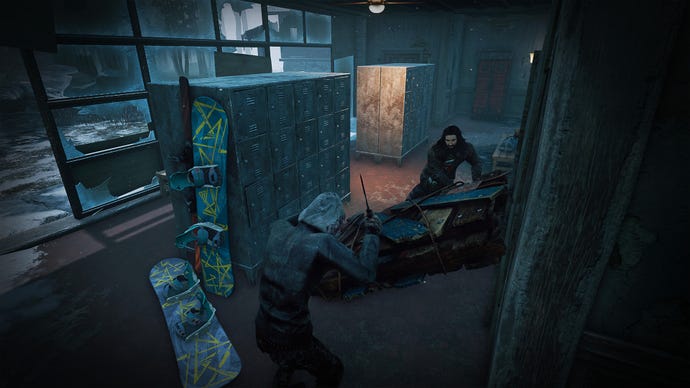 How to redeem codes in Dead by Daylight
To redeem codes in DBD, launch the game and open the Store from the main menu. You should see a Redeem Code button in the top right-hand corner of the Store screen. Click on this to open up a text box where you can enter your code and redeem your goodies!
With the exception of the Rainbow Pride Flag charm, most Dead by Daylight codes eventually expire and are no longer redeemable. Below we've listed all of the codes which we know no longer work:
Expired Dead by Daylight codes:
BASTILLE23
PARTYHATS
OCANADA
GETTHREADY
TIKTOK
TICKED
TRAPPER7
DBD7
HAPPYGW2023
MASTERMAKER
NICE
SHOPPINGSPREE
NOTATRAP
HONORARYCUSTODIAN
HRVFANCLUB
METMYMAKER
LUCKYBP2023s
LUCKY
RABBIT
ICEYYOU
ONEMILLIONSOULS
WINNERWINNER
NOVAS
CHEGADAS
CELEBRANDO
UNSTABLE
VOID
RIFT
ENERGY
DEDOBAJP2022
THREEWITCHES
DEDOBANOHI
BILIBILI300K
TOOTHFACE
FINN
SHARKY
BUBBLES
TWITCHRIVALSTW2022
CAKEWALK
IGBPPARTY
BLOODBANK
THANKYOU
DOUBLERAINBOW
GETTHATBAG
BLUEBIRDBEEG
59th39
78SNOXXG
AD800947-01A7-4DEF-81AD-40DDC501DE50
ANNIVERSARYFRAGMENTS
AUSOME
BETTERTHANONE
BILIBILI200K
BOOP
BULLSHIRT
BYEBYE2020
CAISHEN
CIPHERSALAD
DBDDAYJP2020
DBDDAYJP2021
DBDTHEBOARDGAME
DBDWEBSITE
DECIPHERSTRIKE
DIEHARDDIVA2022
DISCORD150K
DISCORD200K
DJC2021
DWIGHTCROW
EASYASABC
ENTITYDISPLEASED
ENTITYPLEASED
ENTITYSLITTLEHELPER
ETERNALBLIGHT
FD3EB91E-B741-454B-A5DD-BC8DA406F162
FORHONOR
FRISKKUWURAWRXD2022
FROSTYBLIGHT
FROSTYDEATH
FROSTYTWINS
FUKUHAUCHI
GIFTTHERIFT
GIGXLM3G
GOLDENBROS
HALLOWHOOPS
HAPPY1001
HAPPYGOLDENWEEK2021
HELLOTHERE
HENYANG
HISSANDHERS
HOLIDAYFORMAL
HOLIDAYSPECIAL
HOHOHO
INSERTCOIN
INTHISECONOMY
JAPAN300K
KENPOUKINENBI2021
KODOMONOHI2021
LANTERNFESTIVAL
LIGHTSCAMERABP
LIVEORDIE
LUCKYCHARM
LUCKYMONEY
LUNARNEWGEAR
METATRON
MIDORINOHI2021
MILADYISSEVENFOOTTWO
MNOGO
MORICHRISTMAS
NAUGHTYSTOCKING
NEWYEARNEWENTITY
NICESTOCKING
NOTATRICK
OINKYOUNEEDISLOVE
ONLY5000
OVER5000
PATHFINDER
PIECEOFCAKE
RANKROULETTE
REVEALED
RIVALSJP
RIVALSKR
RIVALSTH
SCARYGOOD
SCREAMSTREAM
SEASONSBLEEDINGS
SNAPSNAP
SOITCHY
SWEETDREAMS
THISISACODE
TREATYOURSELF
TWITCHORTREAT
TWITTERLORGE
TWITTERSMOL
TWOSDAY
VK100K
VK130UP
WITCHPLEASE
YOUFOUNDME
ZARINOX
---
That's everything on Dead by Daylight codes for now, but we'll be updating this page regularly whenever we spot a new code, so be sure to check back often!