Dead Cells has now oozed out of early access
A good video game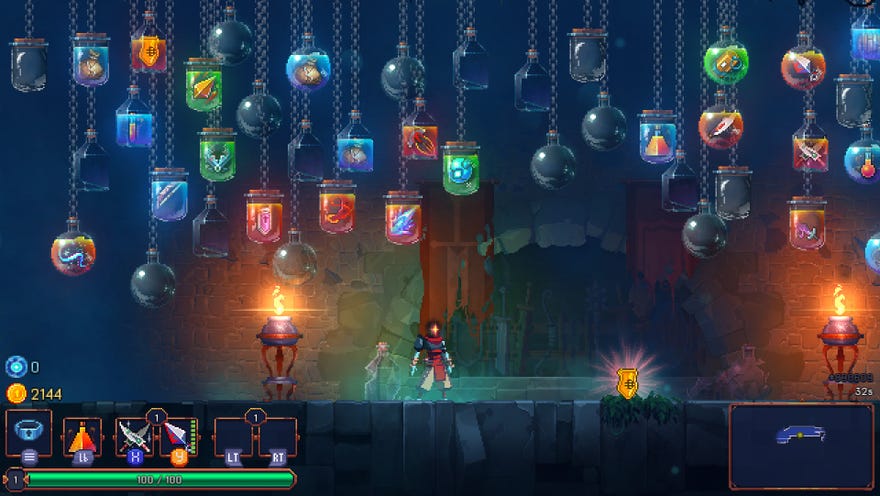 After fourteen months in early access, Dead Cells officially launched today. We declared the roguelikelike platformer our favourite game of 2017 even in its early access state, and our Brendan's Dead Cells review yesterday will tell you it's now even sharper. A good video game. But if you've not been persuaded by our baby-and-a-half of squawking, instead waiting for the full launch, today's your lucky day. Developers Motion Twin aren't done-done with it, mind, already working on new free content.
Dead Cells is a fantasy action-platformer leaping and stabbing through a branching level structure and oogly boogies, collecting swanky weapons and equipment along the way. It's built upon procedural generation spitting out different level layouts, gear drops, and such on each run, with some persistent unlocks and upgrades, so mastery comes through learning how its many moving parts can combine rather than learning levels. It's real good.
Like in The Binding Of Isaac, the big initial challenge is just finishing the damn thing, then further fun comes from unlocking, mastering, and experimenting with its many toys. And just playing the damn thing because it's great. Brendy concluded his Wot I Think:
"In short, every little fracas is a trial of quickness, luck and body memory, and it feels superb. I could talk more about the daily challenge mode, or the new 'malaise' that infects you when certain enemies strike, or whether or not the game counts as a 'true metroidvania' (this is an argument that boils the collective piss of team RPS and will never be resolved). But I'm happier to just recommend it on the strength of its movement alone. Blisteringly fast when it needs to be, challenging without being frustrating, and packed with sharp, fatal toys, Dead Cells doesn't keep you on your toes, it keeps you on your toenails."
Dead Cells is out now for Windows, Mac, and Linux. A 20% launch discount brings Dead Cells down to £17.59/€19.99/$19.99 on Steam and GOG until Monday the 13th of August.
What's next? Motion Twin said in their launch post:
"Well right now we're actively working on our first big post release update. It'll be a free DLC, or a big-ass free update, whichever is technically feasible, but there'll be a stack of new content. Good stuff... Playable stuff...

"From there we'll do what we've always done and work with the community, if demand stays strong, who are we to deny the people their Dead Cells? If y'all get over Sir Blobspierre, then we'll go off and make another game.

"So if you want to see more content be sure to let us know."
Do so.
Oh, while you're around, here's Dead Cells demonstrated by our collection of shaved apes running a recent daily challenge: