Delayed Reaction: Homefront PC Demo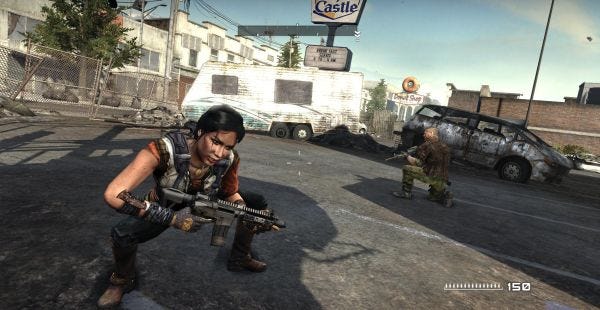 This seems like some pretty bloody odd timing, but perhaps it's THQ taking advantage of a temporary lull in glossy manshoots and seeing if there's room to sell a few more copies of their noisy March release Homefront, which was their own take on CoDiness. The game, made by now-shuttered NYC developer Kaos, sold pretty well but received what could generously be described as a mixed reaction. Did it deserve praise, sneering or the all-too-rarely traversed middleground? Now you can decide by having a go at the newly-released PC demo, now available via Steam. Power-up the independent thought nodes: where you're going, you don't need us.
If, following that, you feel this tale of North Koreans invading America and the resulting resistance is for you, the download version of the game is now selling for half-price until June 27: that's £14.99 in Britisher-coins. Also, here's John's verdict on it.