Spotlight On Biscuit - Homefront Multiplayer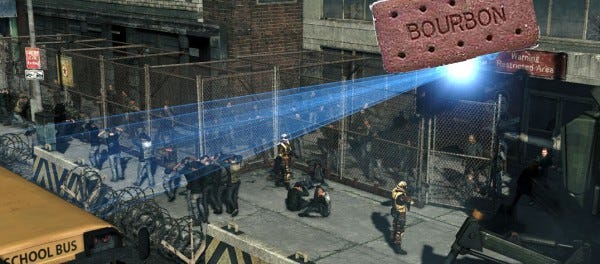 Another week, another Spotlight On Biscuit, wherein we direct you to one of prodigious gaming commenter Total Biscuit's videos for the week, and also discuss a biscuit. This week, it's Homefront Multiplayer and the humble Bourbon biscuit.
I wouldn't say I'm starting to regret this idea just yet, but I have realised that there are more weeks in the year than biscuits that I could name. Hm.

Unlike wine gums, so named because they were originally made with wine (fact!), the Bourbon biscuit is not named after an alcoholic beverage. It's actually named after the House of Bourbon, a former French Royal lineage. Which isn't to say you couldn't enjoy a Bourbon biscuit with a glass of nourbon, but I think you'd be better off making yourself a coffee, adding a shot of bourbon to that, and then having that with a Bourbon biscuit.
Of course, who could be disappointed - or, indeed, surprised - that the Bourbon biscuit is named after a royal family? The dark, rich flavour of the Bourbon could only bear a noble heritage.
Anyway, here's Total Biscuit taking a look at Homefront's multiplayer. Our John's already decided that the single player was nob, so could the multiplayer save it? Erm. No, basically.