Deus Ex: Mankind Divided Release Date Held To Ransom
Never pre-order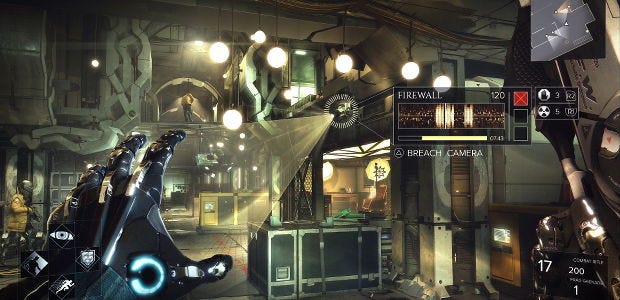 One Deus Ex: Human Revolution mission centred around an old friend from the Deus Ex universe, Tracer Tong, was locked off in pre-order DLC (and later sold seperately). It was a bit of a gross move. Apparently not learning from their mistakes - a pretty Deus Ex-y theme, to be fair - publishers Square Enix have announced all the pre-order guff for Deus Ex: Mankind Divided [official site].
It's a big mess, of course, and includes the unpleasant step of saying they'll release the game four days early if enough people pre-order. How about we not pre-order games any more and Squeenix simply release it when it's ready, eh?
Saying to "augment your pre-order", Square Enix are doing the relatively common tiered pre-order bonus thing of offering more as more folks pre-order. It's more irritating than usual, though, as they won't give you everything in each tier. When it comes to packs with starting items and special outfits, for example, you'll need to choose one of three. It's the irritation of retailer-exclusive pre-order bonuses without even having the excuse of retailer exclusivity.
Likewise, in higher tiers you can choose a digital art book or a soundtrack sampler, and a novella or a digital comic book. Why not both? Because reasons.
Normally I wouldn't even mention this pre-order guff, let alone dedicate an entire post to it, but the highest tier takes the biscuit. If enough folks pre-order, Square Enix will release the game four days early. Which is to say, Square Enix are purposely holding the release back by four days to make people part with their cash early. Bless 'em, they do try to make good-looking games undesirable.
Developed by Eidos Montreal, Deus Ex: Mankind might be released on February 23rd. Or maybe February 19th. Who could say?