Deus Ex: Slightly More Humane Revolution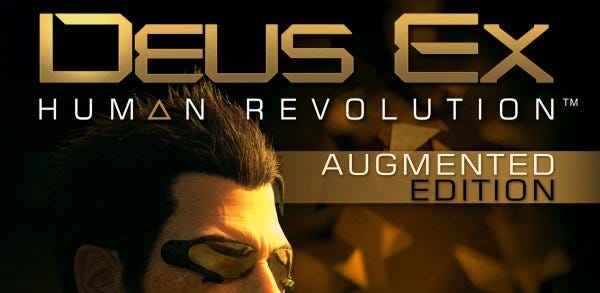 Yesterday lots of us joined hands and got angry at the news that Americans who pre-ordered Deus Ex: Human Revolution at GameStop would be gifted with not just new weapons and items, but an exclusive mission entitled Tong's Rescue featuring a cameo of a character from Deus Ex. Ooh, we were so angry.
This morning Squeenix has revealed the European pre-order bonuses for Human Revolution, and it's good news. Anybody who lives in the land of good cheese and bad television will be getting what I think is a much more reasonable deal.

In short, we'll be getting the Explosive Mission Pack and the GameStop exclusive weapons if we pre-order the game anywhere at all. So, a pre-order will get you the extra mission, the one-shot Automatic Unlocking Device, the M-28 Utility Remote-Detonated Explosive Device (otherwise known as- groan- UR-DED) and the Linebacker grenade launcher.
Now, if Americans instead choose to buy the game from "participating retailers", they can get the antique-looking Silverback double-barrel shotgun and the Whisperhead sniper rifle. We'll be getting those bundled in with the expensive Augmented Edition, along with the 40 page art book, making-of DVD, fancy box and a "motion comic adapted from DC's official series". I could be wrong here, but I think that means they scanned the comic and linked the panels together with an animation and possibly sound effects, which sounds fun.
Anyone have any angry left? I think I'm spent.