Deus Ex: The Fall Trips Onto Steam Today
His name is Ben Saxon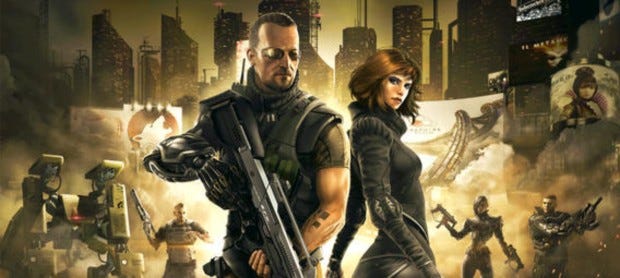 News of the now: there is a newish Deus Ex game on Steam. Deus Ex: The Fall is a conversion of the mobile game from a few years back, one that did an okay job of squeezing down to be prodded and poked at by commuters. I warn you, despite being a slice of Human Revolution-esque Deus Ex, the launch trailer below makes it look pretty bad. Better augment your eyes before watching.
We know why this looks like it does: the stiff, weightless animation and awful voice over ("I went rogue!") wouldn't be quite so egregious when you're crammed into a bus seat and tapping away on an iThing, but blowing up big and bold exposes it a little. Perhaps a little bit too much: every explosion sends people in pre-canned tumbles, and at one point a blast of a rifle ends with a single bullet-hole sort of just forming in front of you. It comes across as cosplay and fan fiction when compared to Deus Ex: Human Resources*.
I'm still downloading it in the hope that it's just a slightly clunky Deus Ex game, because I'm comfortable playing games that need polished as long as they work, but as a trailer this is a huge mess.
*Never gets old.
Okay, so I played it for five minutes and the tutorial sounds like a robot Anne Robinson pretending to be human.