Devil Daggers' New World Record Is Out of This World
What hell looks like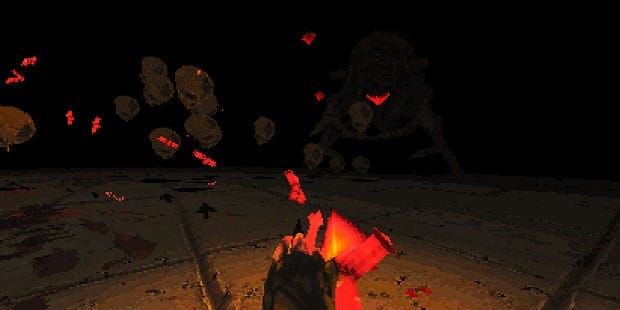 If the rest of us keep struggling to surpass the 90 seconds mark, it's because Devil Daggers [official site] wasn't made for me, or for you. It was made for them. Governmental agencies the world over are keeping track of the leaderboards, to identify the first humans to develop super-human abilities and try to contain them before they become self-conscious. Before it's too late.
And now DraQu is once again at the top of that list of names, and he's being kept under strict surveillance by all the competent authorities. He had already claimed the world record before, but after being surpassed by "weaksauce13" he felt the need to reclaim the spot. Let's watch his 612 seconds run.
I love how he makes the first section of the game look positively easy. He's always in control, like at 2:00 when he positions perfectly under the dragon, and he knows exactly for how long he needs to shoot at each enemy. And then that pause. Those 5 sweet seconds of peace and mercy before it starts again.
Action doesn't become frantic until around the 7:00 mark, and only by 9:30 does he start losing it and scrambling to survive for just another instant. There is just too much stuff to keep track of. I do wonder, though, how many other enemies and structures are in the game, perhaps coded to spawn after 15 minutes, and if people will even ever get to see them. For the rest of us, Matt Lees' video is a more relatable experience.
You can read Adam's take on the game or get lost in the limbo of Devil Daggers for £3.99/$4.99/€4.99 on Steam.