Down In The Burroughs: Tangiers
First new footage since 2013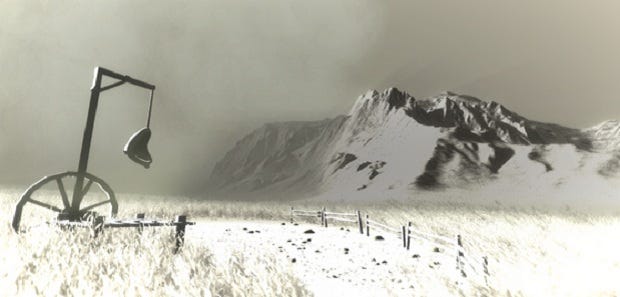 If Tangiers were an art project, a slice of multimedia world-building rather than a game, it would have my full attention. For some time now, I've been constructing collages in my mind based on the sinister screenshots that have been released but today sees the release of a new video, the first since the successful close of last year's Kickstarter. Drawing inspiration from the 20th century avant garde, including Dada, Burroughs and Ballard, Tangiers sits alongside Kentucky Route Zero as a fascinating diversion from decades of accumulated gaming canon fodder. It's a gathering of unusual suspects and that's exciting but - hold onto your trousers - it's also an immersive stealth game, based around simulation rather than tightly scripted puzzles. Drink this in.
You can't spell 'stealth' without 'steal' and one of the things you'll be pilfering in Tangiers is language. Should be slightly more interesting than the 800th coin for a collection that unlocks a bit of concept art. The idea of using language to 'spread disinformation' brings graffiti to mind and the way that characters rearrange words on walls supports that connection. Tagging the city walls with linguistic dissonance may turn out to be a devious way of laying traps - words that behave like noisemaker arrows, words that behave like mines - but there may be more to it than that.
Whatever the ultimate meaning of the purloined parlance, Tangiers is one of the more intriguing prospects due in the back half of 2014.