Dr Stone To The OR: DCS A-10C Warthog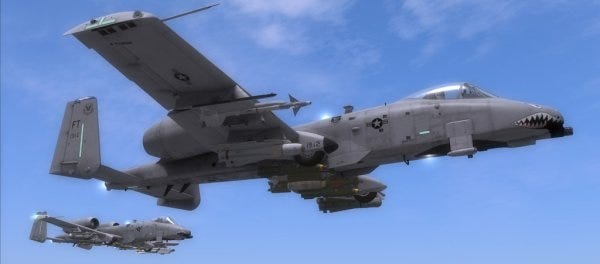 It is with some nervousness that I attempt to share news of the release of hardcore flight sim DCS: A-10C Warthog. It sounds and looks like a pretty remarkable achievement, but as I tend to start weeping uncontrollably if you put me on anything more complex than Crimson Skies or Stunt Island I may not be best placed to successfully identify the major lures of this beast. That said, it does include a 'game' mode as an alternative to exacting simmery, so perhaps I'd not be completely out of my depth.

Like its predecessor Black Shark, this focuses primarily on a single sky-car - the titular wild pig, a US close air support attack aircraft. Devs Eagle Dynamics tout it as "The most realistic flight dynamics ever done for a PC simulation", and if there's anyone who knows about dynamics clearly it's them.
It's on sale for $60 now, as a digital exclusive. A high price for sure, but I get the sense they've crammed an awful lot into this. Buy it or read an eyewatering amount of Warthog detail here.
Here's a fan-made trailer, based on clips from the long-running beta. Very much demostrates that this is SERIOUS BUSINESS.
Here too is in-game footage from the initial training missions. This is purely how to start the Warthog up - a process so impressively in-depth that it requires no less than two videos. Hold me. I'm scared.

And, yes, Mr Stone will be penning a Wot I Think in good time.