We Are All The Zombie: Dying Light Pre-Order DLC For All
'Be the Zombie' for everyone now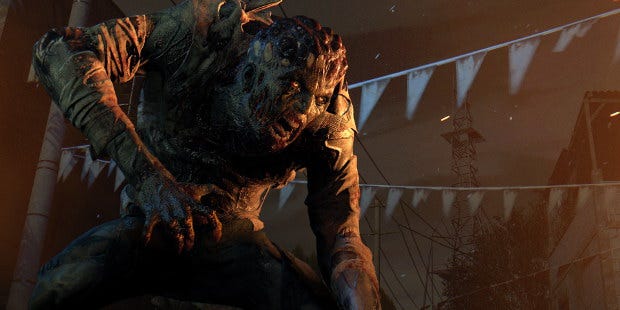 Sounded nice, Dying Light's 'Be the Zombie' mode where you get to invade other players' co-op games as a super-zombie, didn't it? Sounded awful, how it'd initially be available as pre-order bonus DLC, didn't it? In a rare display of stopping-being-silly, that pre-order guff is now off. The mode will be given to everyone for free, developers Techland have announced alongside word of a messy release that'll see boxed copies delayed by a month in some places.
The download edition of Dying Light is still due on January 27th, but the physical edition is a bit weirder. It'll arrive in North and South America on the 27th, but won't arrive in Europe, Australia and the Middle East until February 27th. Something's gone wrong somewhere there.
All folks, anywhere, who pre-ordered the physical edition will get two extra DLC packs free. Though if you're in a region facing delays and were keen enough to play Dying Light that you pre-ordered, I don't know why you wouldn't cancel that and go digital. Techland are also giving out extra 'dockets' - tokens to trade for in-game weapons to registered pre-orderers of any edition.
We'll try to tell you Wot We Think of Dying Light as close to launch as possible, but review code isn't available yet. For now, here, watch some of Techland playing at being the zombie: