Risen & Gothic creators go post-apocalyptic with Elex
A little sci-fantasy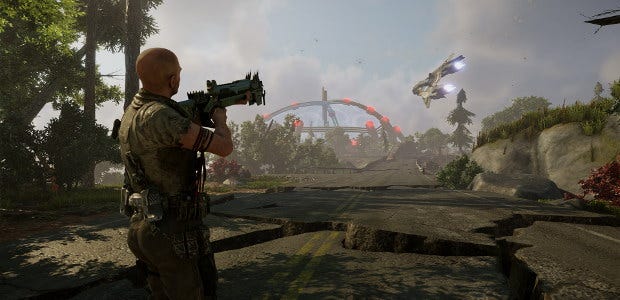 From the first Gothic games through to Risen, German studio Piranha Bytes have made fantasy RPGs. Today that changes with the launch of Elex [official site], taking the open-world RPG antics to a post-apocalyptic with jetpacks and guns. Oh okay, it is a little bit fantasy still, with technomagic, monsters, swords, and thatched cottages. But in the future.
Elex goes down on a technologically-advanced planet after a mysterious meteor has smashed into it and ruined everything. Handily, the meteor does at least bring the promise of great power through the eponymous element elex, which can power fancy technology or give magic powers if you huff it or something. And from there a conflict between factions and orders and all that unfold.
In we come to explore, quest, make friends and enemies, collect odds and ends, make decisions, and duff up baddies and monsters. It's an open-world RPG, yeah?
I'm hopeful our Alec will have a crack at Elex, seeing as his times with Piranha Bytes' Risen series have variously been exciting, frustrating, surprising, and awful (do read about his adventures in the first, second, and third game). He is on holiday this week, mind, with no idea that I am volunteering him for a task he will likely find as irritating as it is rewarding. Ha ha.
Elex is out for £40/€50/$50 on Steam and GOG.