Playful Pottering: Else Heart.Break()'s Gameplay Trailer
Meandering gameplay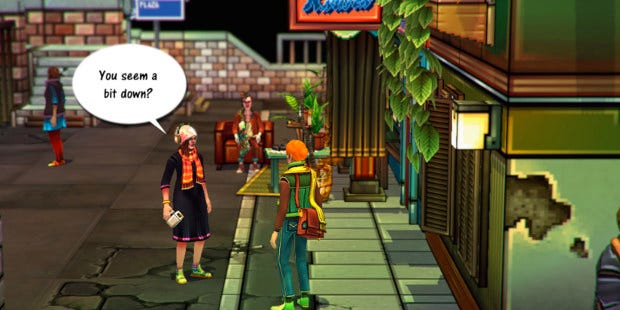 I've gushed about how pretty else Heart.Break() looks before, but what's going on beneath those PlayStation-era polygons? This new six-minute uncut gameplay trailer might seem like the perfect way to discover what one even does in the game, what our goal is and how we'll achieve it, but... seemingly nothing major is resolved, nothing visibly changes. Which I suspect is the point. It's six minutes of moving through a city that's new to you, trying to learn your way, poking at and interacting with things, and chatting with people who aren't there just to drive the plot forward.
Finding and staring at a map, fiddling with a jukebox, paying for coffee by actually deducting money from your account, watching life go by in the streets, picking your seat in a coffee shop and chatting to people, it's all very pleasant. else Heart.Break()'s supposedly about some sort of political goings-on in this futuristic city, but it's also about life, love, and the little things.
Creator Erik Svedang says they hope to launch the game at "the beginning of next year". He also notes, "We've had some complaints about how annoying the speech bubbles look, so that's something that we'll definitely try to fix too." I'm glad; they really do look daft.