Podcast: Who are our best friends?
Listen now, chum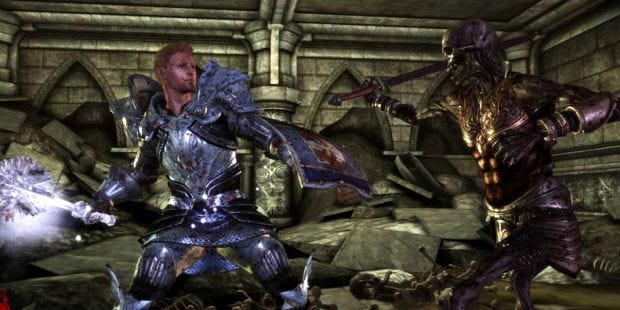 Hello chum! Sit down and have a nice glass of water and a pack of Bombay mix. That's how we greet our closest friends on the RPS podcast, the Electronic Wireless Show. This week, best pals John and Brendan discuss how friendship is handled in videogames, and what characters felt most like close buddies. John felt a kinship with Alistair from Dragon Age: Origins, and sees Lydia from Skyrim as Wilson the football from Castaway. Whereas Brendan felt a habitual closeness to the undead woman in Dark Souls who sold him poisonous arrows. Takes all sorts, really.
John also enthuses about animated adventure Chuchel and a new retro shooter from 3D Realms, Ion Maiden. And Brendan comes up with some fictional friend-forming scenarios between iconic videogame characters. Would JC Denton get along with Adam Jenson? Listen to find out.
You can listen above, or go straight to Soundcloud where you can download it for later.
You can also get the RSS feed here or find it on iTunes, Stitcher or Pocket Casts. Chummy-wummy music is by our bestest-westest friendo-wendo, Jack de Quidt.
Want to write in with questions or suggest a theme for a future episode? Now you can, to podcast@rockpapershotgun.com.
Links:
Who is agony aunt Anna Rayburn?
Who is Alistair from Dragon Age: Origins?
The life and death of Lydia in Skyrim
Barbas was a dog in Skyrim, and so was Meeko
John hates Fallout 4's "stupid dog"
You're not the hero of Pyre's revolution (and that's the point)
Have you played… Else Heart.Break()?
The Witcher developer hints that Geralt will guest appear in a different game