Endless Space 2 brings Vaulters in first expansion
Deus Vault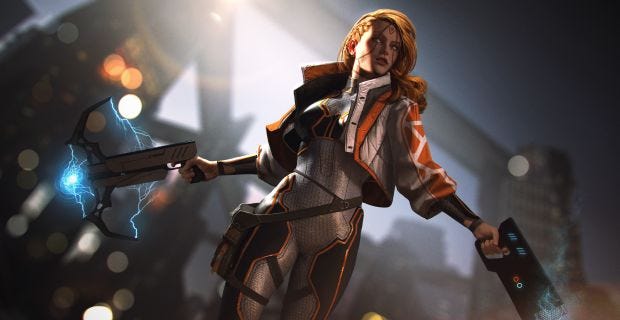 Xcess, xplain, xcacerbate, xpire. Those are my 4 Xs. What are yours? Oh, it's the boring ones. The kind you'd find in grand strategy sci-fi game Endless Space 2. Well, it might xcite you to learn that the space race between space races is getting an xpansion featuring the Vaulters, a crowd of godly ne'er-do-wells who've feature in previous Endless games, such as Endless Legend. This is the first proper expansion and it's coming out on January 25. Here's a cinematic about a sad robot.
That was like Wall-E but with zero jokes. I don't know much about the Vaulters or their in-game powers or specialties, being a complete Endless ignoramus. But they look a bit like space Vikings. Here they are during what I'm informed is a "mood ritual".
I like that! But it isn't very helpful, I admit. Here's what developers Amplitude Studios say about the neon axe-wielding warriors:
"A new civilization means a new way to play, the Vaulters will have the ability to teleport and use the Argosy - their legacy super colonizer ship featured in the Prologue video. They will also have their own heroes (including the famous Opbot), technologies, buildings, a new starting special node, the Sisters of Mercy minor civilization that they brought with them from Auriga, and of course, a brand-new main quest. Will they discover the truth about their Gods? Will they find a new home to start all over? Will they save their people that stayed on Auriga?"
They really do mean what they say in the first line there. If there's one thing that makes Amplitude's games stand out from the pack, it's the way that each faction uses a radically altered version of the game's base rules. Whether it's the all-consuming Cravers or the ship-bound vampiric Vodyani, playing with a new faction involves relearning most of what you already know. The expansion also includes new combat features like the ability to board and hijack spaceships, as well as letting you do some diplomacy with pirates.
Fraser liked Endless Space 2 very much, saying that it was "simultaneously confident and experimental, finding new ways to spice up a genre that can too often be bland". Adam also blathered on about its weird aliens during one of our early podcasts and he loves him some strategy. The game has been updated a little since release. One time it got some fighters and bombers, and this other time it got some smartified AI. There's a "community challenge update" alongside this expansion too, which includes a bunch of stuff you can learn about here.
The Vaulters pop out of their pods out on January 26, like I already told you jeez, and will cost £8.99.