Euro Truck Simulator 2 off to the Baltic in next expansion
Honk honk!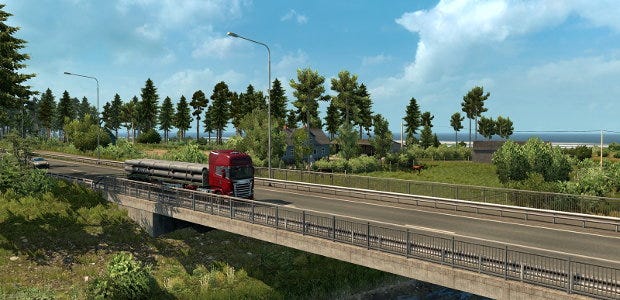 Euro Truck Simulator 2 developers SCS Software today announced a new expansion for their cheery truck 'em up, tentatively named Beyond The Baltic Sea. It will add new land to pootle around the Baltic sea, with the Baltic states of Estonia, Latvia, and Lithuania, along with a chunk of Russia through to Saint Petersburg and a sliver of southern Finland. The expansion is still a way away but that just gives plenty of time to plan your honking holiday.
"It's quite a lot of ground to cover with unique architecture, industry, and transport infrastructure; an area that will be very different from the rest of the world we have so far," SCS Software said in today's announcement. This map shows which areas they're planning to add:
I've never been any of those places, so tell me: what's it like? What should I expect and hope for?
SCS don't even wager an estimate on when the expansion might launch, so probably don't expect it for a fair while.
Over the pond, SCS are also working on Oregon for the next American Truck Simulator expansion. Once that's done, the game will have most of the beautiful Route 101 which runs up along the west coast. I am certainly keen to drive that virtuaroute.