Pimp My Ride: Euro Truck Simulator's Cabin Accessories
Nodding dogs to fluffy dice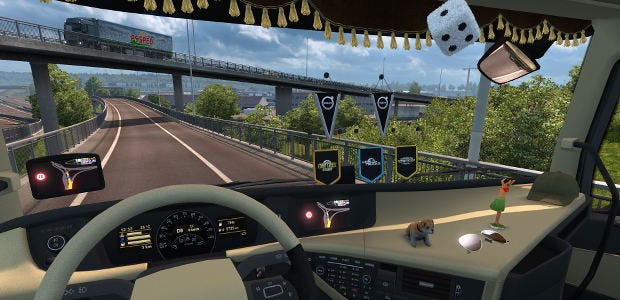 I'm always fascinated how people customise things, from pencil cases to player characters - and trucks, of course. Euro Truck Simulator 2 [official site] lets folks fancy up their rigs with fancy paint jobs, but now with new DLC opens a wonderful new space to blow cash on trinkets to make you happy, adding cabin accessories.
Nodding dogs, pennants, hula dancers, laptops, handbags, ice boxes, and fluffy dice are among the treasures truckers can now fill their cabins with, and yeah, I am keen to see the scenes people create. Have a look at all this junk:
It's a fine opportunity to tell your own little stories, yeah? A little environmental storytelling. Will you live the high life with expensive sunglasses, pocket telephones, laptops, and handmade leather wallets? Simply go practical with a compass and sandwich? Or perhaps cover everything in tassled trim and nodding dogs? If you've bought this DLC and set up your cab, do share a snap with the rest of us, won't you?
The DLC is £2.51 on Steam at the moment.
A new update also launched alongside the DLC last night, bringing changes including improved sounds and bug fixes.