Euro Truck Simulator 2 Multiplayer Mod Enters Open Alpha
Don't drive by these truckers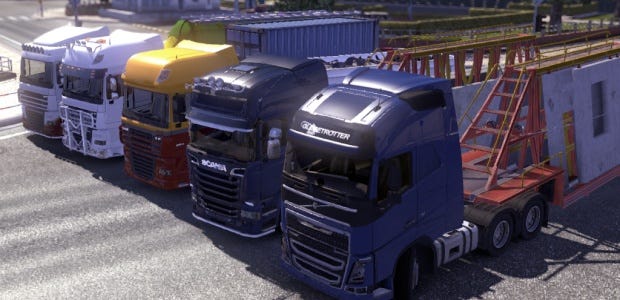 Adam and I are both avowed truck lovers, but thanks to the Euro Truck Simulator 2 Multiplayer Mod we can now pull our big rigs into the same roadside service station for a late night liaison. The mod has been in-development since late last year and entered open alpha yesterday.
While the mod has come a way since some of the early videos (as seen above, from December), the downloadable alpha is still far from finished, which means you can expect plenty of potholes on the road to playing it. At least it's only a 1MB download.
I'm going to keep trying, though. I play Euro Truck Simulator 2 to relax on long drives, which means I don't necessarily want to interact with other human beings while I'm taking in the view and zoning out, but I do love the idea that the other vehicles on the road could be other players. I want to see them sail by, maybe sound a horn of solidarity, and otherwise continue our separate ways.
Keep on truckin', PCG.