Eurogamer Retro: Myst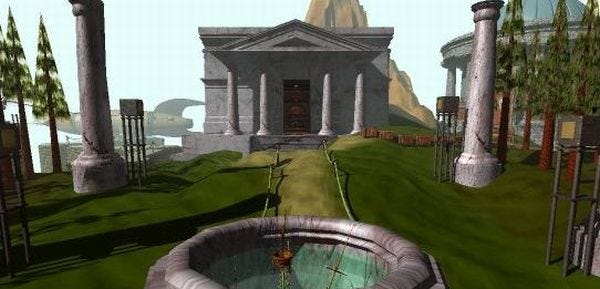 A hundred years ago, when I first started out writing reviews for PC Gamer, I was sent the adventure games. This was partly because I knew a lot about adventure games, but mostly because they were far more likely to be awful. And everyone hates me. Which meant I suffered at the hands of Myst. Myst, a game more tedious than being shown someone's photographs after they've been on holiday to Swindon, spawned so many copycat pre-rendered mechanical-puzzled miseryfests. And sure, while they paid my rent, my loathing grew and grew. You may have played Myst when it first game out, and in your youthful naivety mistook it for something not purest evil, but I'll bet you didn't play Dracula: Resurrection, Jerusalem: The 3 Roads To The Holy Land, or Arthur's Knights 2. Or Schizm: The Mysterious Journey. Or The Secret of Nautilus. Or The New Adventures Of The Time Machine. Or The Watchmaker. Anyway, the point being, I've written a retro of the original Myst for Eurogamer. Choice quote below.
Good grief, I hate stinking Myst. And I hate anyone who likes it. I hate you, and your ghastly taste. If this was good enough – if this was what you wanted from gaming – then I hope the litany of miserable clone games that destroyed the joy of adventuring has made you very happy. Every time I receive a game to review that requires me to read its entire plot from a digital pile of horribly written "books", I turn and look at you with such piteous contempt that your mothers want to disown you.

Seriously, this is the game that made it okay for developers to think, "Nah, screw telling a story, let's just make the player pick it all up from our handwriting-font-printed virtual novels. It'll be much easier to excuse a collection of meaningless, unconnected puzzles if there's a book about flying cats or something. And a diary. No, wait, 18 diaries. 18 diaries filled with pages and pages of our purplest prose, in which one paragraph of information somewhat relates to a puzzle 15 locations away. That's narrative."
I hate Myst.