Card-o-board battler Faeria launches out of early access
They tell me it's great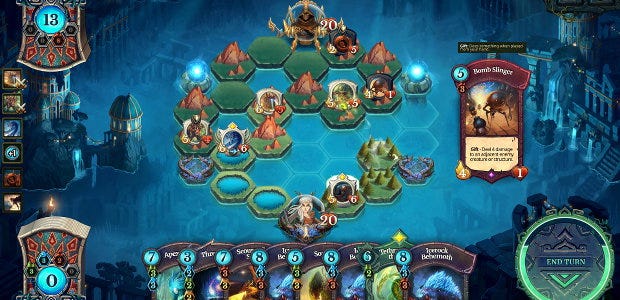 Board game and collectible card game combine in the free-to-play Faeria [official site], which hit version 1.0 this week and officially launched after a year in in early access. I've received a few e-mails from well-meaning readers urging me to play it 'cause I like Magic: The Gathering so much, and Faeria rises from Magic-y foundations with a board game layer of building and moving around a map, but please stop these. Faeria looks great, it genuinely does, and I can't afford to get sucked into CCG heaven again. You monsters. I will, however, pop up a news post about it.
So! It's a CCG. You build a deck then go battle another player (or AI). It's also a bit of a board game. As you play, you lay down terrain tiles on a hex grid, building a battlefield. Creatures roam around the map to attack and control points, structures set up on tiles, and different abilities can interact with it in interesting ways. So you've got the CCG level of cards and creatures, then the board game-y bit of trying to shape and control the battlefield to best suit you. Sounds great! I cannot play it.
Official launches bring launch patches, and you can find the changelog for that this-a-way. Changes include an overhaul of rewards and the progression system, balance tweaks, a Linux version now stable enough to lose the 'unsupported' label, and some very pretty new artwork to replace the last of the placeholder art.
What's next? More features and content are planned, of course. For now, developers Abrakam have launched a 'War Effort' tracking all the gold earned in-game. "When the progress bar is full, something interesting will happen," they say. It's just over half-way there now.
Faeria is free-to-play on Steam for Windows, Mac, and Linux. It's on iPad too, with an Android tablet release coming soon, followed by Apple and Android general releases. I will not play it. Thank you for all your thoughtful e-mails but I have already spent my lifetime card game budget. Please understand.