Faeria getting new co-op campaign in first expansion
ADVENTURE POUCH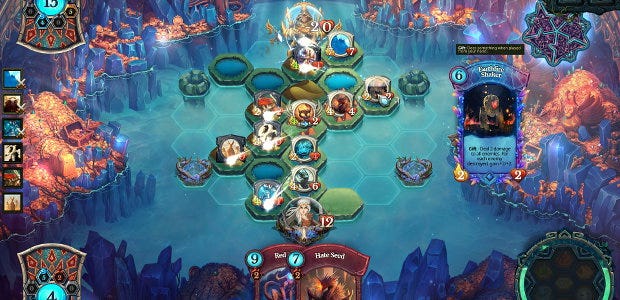 Snazzy CCG/board game hybrid Faeria [official site] left early access and properly launched only last week, and now here comes news of the first expansion. The 'Adventure Pouch' will arrive this summer, bulging with a new cooperative campaign, co-op boss battles, and other odds and ends. While Faeria is free-to-play, the Adventure Pouch will be a paid expansion. Also, its name is Adventure Pouch. Adventure Pouch!
Can't you imagine a filthy wizard propped up by a tavern counter, mead filtering through his nicotine-yellow beard, patting his knee and slurring "C'mere darling, I've got a quest reward for you in my Adventure Pouch"? Awful.
Developers Abrakam say that the Adventure Pouch will offer "a new co-op campaign, time limited co-op boss battles, brand new cosmetics and epic daily challenges", along with other things they're not revealing yet. I don't know, maybe balloons. A birthday card. A signed photo of the dev team. A 'Pouch Grasper' custom title. Who knows? Abrakam say more will be added to the Adventure Pouch as players earn more gold in-game, as tracked in the 'War Effort' progress bar on the Pouch page.
The Adventure Pouch is due some time this summer. It'll only be sold "for a limited time," curiously. Abrakam are planning to release more "collectible expansions" later.
Faeria is free-to-play through Steam on Windows, Mac, and Linux.