Free-to-play card strategy game Faeria goes buy-to-play today
Playing with a full deck.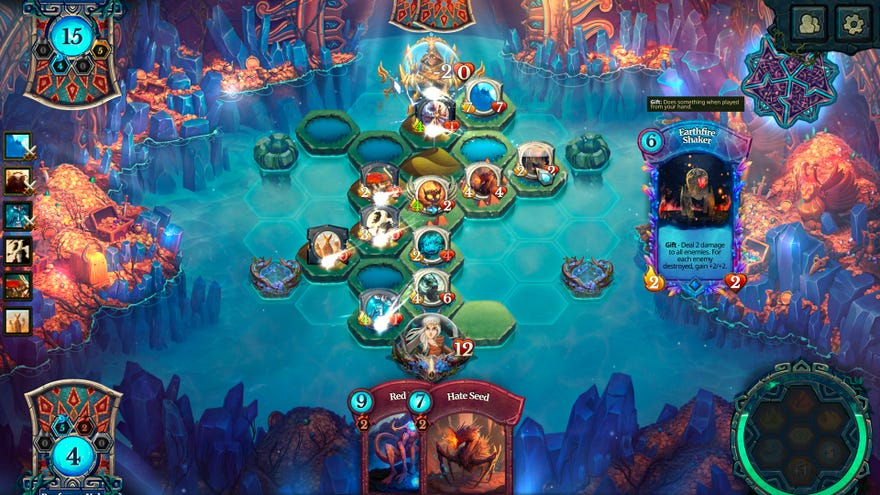 Strategic card-collector Faeria made the jump today from free-to-play to a far less chance-driven model. Gone are booster packs or chests bought with real money - now you just buy the game outright and progressively unlock cards as you gain levels. Our resident wizard Brendan quite liked Faeria when he reviewed it last year, listing pacing issues and its free-to-play progression as its main flaws. As of today, at least one of those is no longer a problem.
Everyone who played Faeria previously has effectively been upgraded to the 'Classic' version of the game for free, which is nice. The new economy of the game is explained here. In short, every time you level up through play, you get a Battle Chest containing four cards, none of which are duplicates. Every time you level, you'll be unlocking a handful of new toys. Developers Abrakam reckon that it'll take 172 chests to collect every single core-set card in the game, assuming you also complete the solo campaign for its rewards.
While there is a special currency used to buy or gain random cosmetic items, card chests can only be earned through play. The rate of XP gain will be doubled if you have the Premium edition of the game, which is a one-off DLC upgrade. Abrakam also plan to release regular expansions from this point on, the first of which launched today, marking the start of what the developers are calling 'Faeria 2.0', which you can read about in detail here.
The Fall of Everlife DLC contains 20 cards at present, with another 20 due to launch next month, and introduces a new rule to the game - Corruption - as well as creature sub-types. It all reminds me a bit of the Living Card Game model used by Android: Netrunner and similar card games, where you buy static new sets outright. A more palatable (and frequently cheaper) option than hoping for rares.
You can buy Faeria on Steam here for £19/20/$25, although anyone who played it previously will own the new 'Classic' edition of the game. Two pieces of £12/13/$14 DLC are available, and can be found cheaper in this all-in-one bundle.