Congrats, Bort: Fallout 4 Adds More Voiced Names
Let's hear it for Morticia!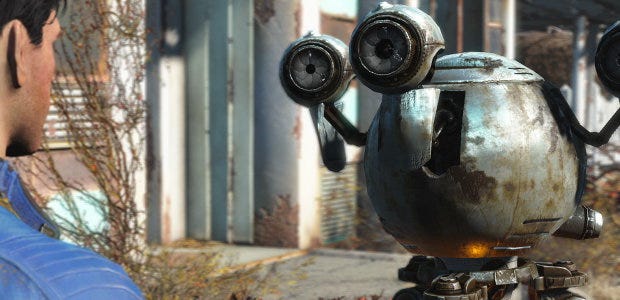 A video game speaking your very own name is magical, a little treat in a game that's otherwise the same for everyone. A pal was once spooked by a voice calling to him at night, only to realise he'd left Black & White running. Magic. Fallout 4 [official site] already gave its robobutler Codworth recorded lines for a fair few names, and now he knows even more. Over 300 new voiced names arrived with the latest patch - good news for all you Jokers, Bernies, Morticias, Joffreys, Phasmas, Mortys, and Borts.
In other Fallout 4 news, Nuka World will indeed be the final DLC.
Those datadiggers over at Reddit dug out all the new names. The originals are over here, for reference.
I like that the new names are a mix of regular names Bethesda had missed and a load of pop culture references. I'm seeing bits from Game of Thrones, Breaking Bad, Rick & Morty, The Simpsons, The Fifth Element, Star Wars, The Addams Family, Red Dwarf, wrestling, signs of the zodiac, and more.
It is difficult to believe that Bethesda ignored the many Borts of the world for so long. Sadly still missing is my regular virtuaperson name, Judith, but I'm not put out as Bethesda did add two truly important names.
It's such a small and inconsequential detail that I'm delighted Bethesda have decided to do this. Same for centred weapons in Doom. More of this please, ta.
As for DLC, yep, August's Nuka World will be the last one. That's the brief word from Bethesda's Pete Hines. Not that Bethesda had hinted we might see more, mind. Nuka World will be one of the larger DLC packs, adding a theme park turned into a raider city. Apparently it'll let folks lead raider gangs and all. Before then, the Vault-Tec Workshop will arrive this month, letting players build and run their own Vault.