Fallout 76 and West Virginia tourism board team up to promote both game and state
Almost heaven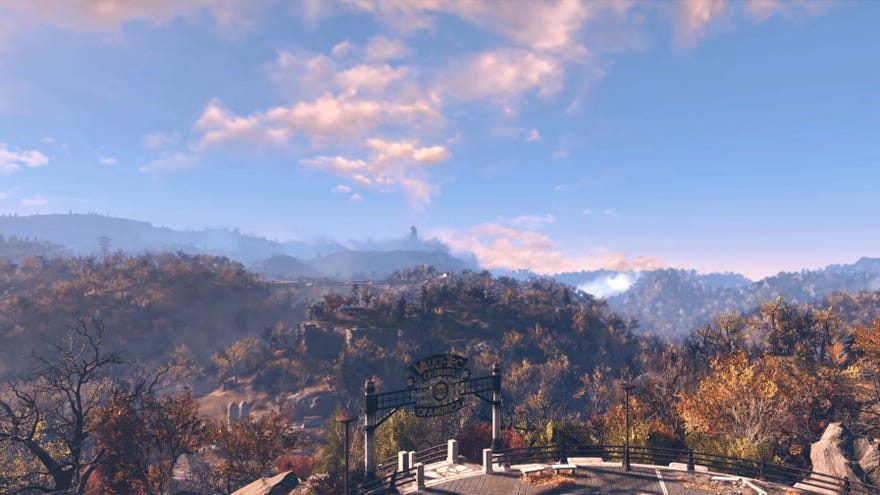 When thinking of holiday destinations, Fallout 76's irradiated wasteland might not be the first place that springs to mind. But the state of West Virginia wants you to focus on the landscapes, scenery, and terrifying mutated creatures folklore, and consider heading out to see them in person. They've put out a video of a Vault-tec bobblehead hanging out next to the state capitol building to entice you in:
Sorry-not-sorry for getting that song stuck in your head again.
West Virginia governor Jim Justice said of the partnership: "We have it all: beautiful scenery, the best people you could ask for and more. And now, we get to share a piece of that with people all over the world through the unique lens of this video game."
The game certainly looks pretty, but Bethesda's slew of anti-griefing measures may not inspire confidence that the game will contain only "the best people you could ask for." On the other hand, Governor Justice made a surprise switch from the Democratic party to the Republican party in the middle of a Trump rally in August 2017, calling him a "great president," so suffice to say that his interpretation of "best people" likely differs from mine anyway.
Regardless, I'm sure West Virginia itself is lovely, and that it has many wonderful inhabitants. The tourism board says that there will be "promotional events, exclusive tours and special Vault Boy sightings…announced in the coming weeks," as part of the scheme.
It's not the first time that the Fallout series' real-world locations have capitalised on their video game equivalents. The Pioneer Saloon in Goodsprings, Nevada, has a framed copy of Fallout: New Vegas hanging on the wall to greet Courier 6 inspired tourists. Personally, I recall getting excited at the possibility of a layover in New Las Vegas's McCarran International Airport when I was travelling a few years ago (and equally ending up disappointed when it didn't happen), so I can definitely see the appeal.
What the tourism board thinks of the fact that Bethesda seems to be extremely excited to let you obliterate its in-game version of their beautiful state with nuclear weapons isn't clear.
Fallout 76 will be releasing on November 14th.