Absurdo-Swordfighting Game For Honor Has Solo Play
Knights vs Vikings vs Samurai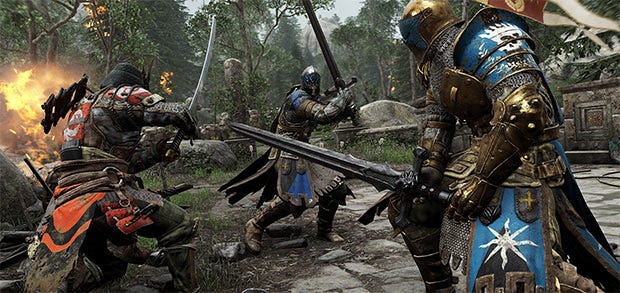 I didn't actually know Ubisoft were doing a sword-fighting game - I missed it in all the E3 noise. Seems a little bit niche for them in a way, but then again after making 98 different Assassin's Creeds they've probably got the world's largest archive of clashing steel sound effects, so For Honor [official site] makes a lot of sense.
This producer interview video is mostly chest-thumping, but there's footage aplenty in there. BLOOD AND METAL.
More importantly it bears a reiteration that there will definitely be a singleplayer component. Some folk have been worrying that the focus was so heavily multiplayer that it couldn't possibly be for them, so good news on that front. No real details so there's still a chance it could pull a Battlefront on us – i.e. just a couple of looping bot mods – but producer Stephane Cardin reasurringly drops the c-word. 'Campaign' traditionally denotes a sizeable chunk of linked-together solo play with an overarching goal, often with a story attached, but until more details are revealed there are no guarantees that it won't just be a skirmish playlist, I guess.
"I can promise you that we will have a solo campaign. It's one of the key subjects we're working on on the floor. I can't wait to show stuff to you guys and we'll do it as early as possible like we did with the multiplayer."
This isn't the first time this has been stated - in the original announcement FAQ, Ubi wrote "Yes, there will be a single-player campaign in For Honor and the complete details about that dimension of the experience will come at a later date. It will also be possible to play with and against AI in all our multiplayer modes." With only multiplayer have been seen since last Summer's reveal, some have worried that there'd be no solo. Well, now you know. Again.
Whether a campaign mode means some kind of internal logic'n'lore will be applied to explain why Vikings, Samurai and feudal knights are somehow all fighting each other remains to be seen. The Roger Rabbit rule can be easily applied to multiplayer, but maybe less so in a campaign context. Though I remain convinced that Quake III's 'aliens did it' explanation for all its cross-time/species warriors remains the best possible excuse for such things.
The vikings haven't actually been seen yet, but Cardin reveals that they'll turn up "very soon."
Here's the E3 trailers too, in case you missed 'em.
No sign of a release date yet, but with rumours circulating that Assassin's Creed is taking a break this year, perhaps For Honor can step in to the Ludicrous Historical Action breach this Winter.