Forspoken patch adjusts "frequency and content" of banter ahead of DLC release
Well that happened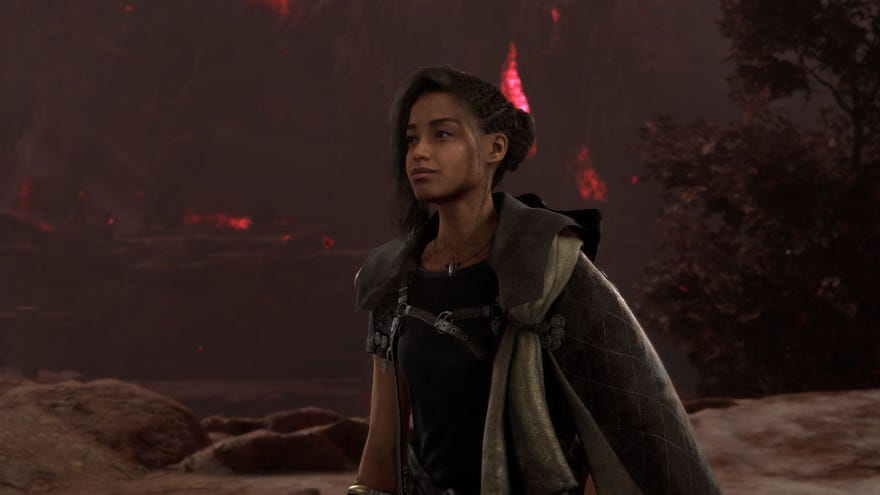 Much maligned action-adventure Forspoken gets DLC this Friday. Before that, Square Enix have released a patch for the base game which, among other things, adjusts the "frequency and content of the banter" between Frey and her magical pal Cuff.
"Adjusted the frequency and content of the banter between Frey and Cuff that plays during open world activities," is right at the top of the patch notes. They have also "adjusted the pacing of certain event scenes in the earlier chapters" and made Frey's animations upon clearing quests and earning experience shorter and skippable.
There are plenty of other substantial refinements, too. There's a new "Cuff Crush" attack, you can now use magic parkour while mid-air, and there's a new consumable that can revive Frey when she runs out of health. There's also a new "very hard" difficulty mode. You can find all the patch notes here.
Forspoken is about Frey, a young woman from the real world who is transported to a fantasy realm in which she has a talking bangle and magic powers. Our Forspoken review found it fun, annoying and empty, and Square Enix said the reviews were "challenging" and sales "lackluster". Some of the criticism - or rather, the social media mockery, not our review - focused on the tone of the humour and dialogue, which people felt was all a bit well-that-just-happened.
Forspoken's DLC is called In Tanta We Trust and is a prequel story that sees Frey visit the fantasy land of Athia prior to the events from the main game. It's out now on PS5 for those who purchased the digital deluxe edition of Forspoken, and will become available for everyone else and on PC on Friday, May 26th.