Fortnite Battle Royale's sandbox Playground mode is live
For really reals, this time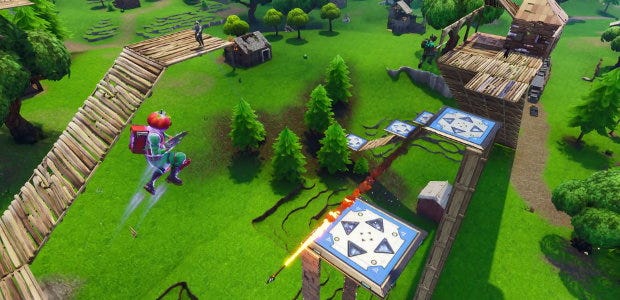 After a busy week which included a live rocket launch which cracked the sky and game servers falling over, Fortnite Battle Royale found its feet again today. There's still a honking great crack in the sky which continues to splinter outwards day by day, sure, but Epic have fixed problems with the building sandbox 'Playground' mode and relaunched it. The customary weekly patch is live now too. While v4.5 really only adds a Tommy Gun as a new weapon, mate, did you miss that Epic just did a one-off live event portending future mysteries? They've been busy.
Playground mode gives up to four partied players one hour to explore, build, die, respawn, loot, and generally lark about. One hour to build bases, race trolleys, test weapons, murder, destroy, and build genital sculptures visible from orbit. It's your time: what would you do in a playground? More loot and resources are all over, to fuel the antics.
It's not Minecraft, mind; at the end of the hour, the circle will close in, you will die, and your creations will not be saved (though I suppose you can at least see them again in replays).
This is only a 'limited time mode', not a permanent fixture, though I wouldn't be too surprised if Epic are feeling out how viable it is to have the mode stick around longer or at least return. When Epic first launched Playground last Wednesday, June 27th, it wasn't quite working right and they soon took it down. But now it's back, baby!
The Playground might also be a handy place to make a movie for Epic's new Blockbuster Contest. They want players to make superhero movies to show in-game on the Risky Reels screen, see. At last, a use for all those green screens around the place! Only the grand prize winner will get their movie screened, sadly, though I'm sure other good'uns will be all over YouTube and whatnot.
As for v4.5, hey, you can now find the 'Drum Gun' (Tommy Gun with a drum magazine, innit) around the place. This "is a hybrid weapon that combines the stopping power of a rifle with the suppressive ability and fire rate of an SMG," Epic say in the patch notes.
I wish I liked Fortnite more than I do. I play a little every time they add something fancy but it's not for me. I do still have fun watching Epic from the sidelines as they tease updates with secrets and events. Well done, them. Suing a former tester for leaking minor future details is going a bit far with the mystery, mind.
Still trying to get to grips with Fortnite? Check out our Fortnite guide hub for more tips and tricks for the game. You can also find the latest challenges in our Fortnite week 6 challenges guide.