Fortnite Battle Royale has murderous World Cup fever
Dropping in a 4-4-2 formation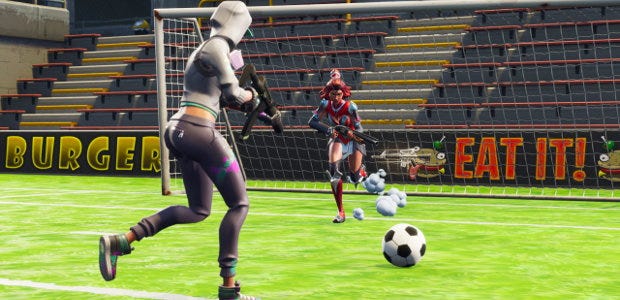 It's goal time! The World Cup kicked off in Russia today, bringing together this blue marble's 31 finest national football teams, and England, for a kickabout. Video games want in on this too, including Fortnite Battle Royale, though I'm not sure players quite get the sporting spirit. Epic's free-to-play shooter (guns, not goals) has added a number of football pitches complete with kickable balls, and right now these are flooded with players trying to score goals (which does special celebratory effects!) to complete one of this week's challenges. Do people enter into the World Cup spirit, lining up to pick sides for a friendly game? Do they bollocks.
Sadly, every time I've landed at a pitch, I have been summarily murdered by people who continue to murder each other until only one is left standing. Then that person scores a goal and shoves off. It's like this is some kind of terrible murderisland.
You could at least drop in a 4-4-2 formation.
No matter, if you want to tour the pitches (I particularly like the makeshift pitch at Fatal Fields with scarecrow teams) or just complete the challenge, USgamer have a guide. That's not just a sneaky plug for our corporate siblings; it saves me from finding and explaining them all myself.
I know a lot of folks are cynical about the World Cup--and there sure are many shady and terrible things about it!--but there's a beautiful spirit particularly for smaller teams. Our dearly-departed Adam (RPS in peace) today pointed out this sports journalist's tales from the qualifiers, which are great.
Still trying to get to grips with Fortnite? Check out our Fortnite guide hub for more tips and tricks for the game. You can also find the latest challenges in our Fortnite week 6 challenges guide.