Freeware Gardener's Question Time: 19/09
Regular like the seasons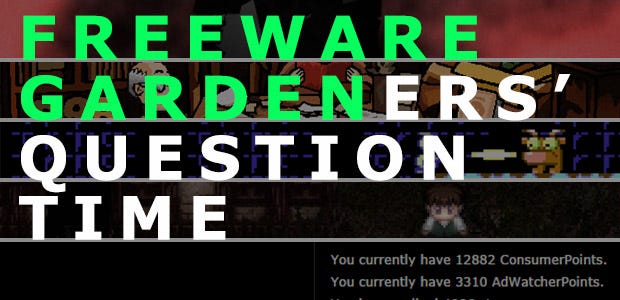 Do you enjoy Freeware Garden, our daily recommended free game? Do you find yourself playing the games in an evening or later the same week, but being disappointed to discover that the comment thread for each post has already fallen idle? Then welcome to Freeware Gardener's Question Time, a definitely weekly* chat thread where players can gather, kick back, and discuss the week's selected games.
Looking for more free games? Check out our round up of the best free PC games that you can download and play right now.
*Sorry for not doing it for a month.
This week saw the selection of five fine freeware games, as always.
Monday - Battle Cube
Knytt creator Nifflas' musically timed avoid-'em-up.
Tuesday - Donald Dowell and the Ghost of Barker Manor
A vast, traditional, low-key and funny point-and-click adventure game.
Wednesday - Powerglove
A side-scrolling run-and-gun game with an available C64 cartridge release.
Thursday - It Moves
A horror game about dread, not jump scares, with simple puzzles.
Friday - RocketJumpification
A Twine game about the dystopian potential of gameification.
If you've played the games and have some thoughts, talk away in the comments below. If you haven't played anything yet, this post should linger somewhere near the top of the site for the rest of the weekend, so take your time.
o/