Friday the 13th's content update plans meet a grisly end
Stabbed in the back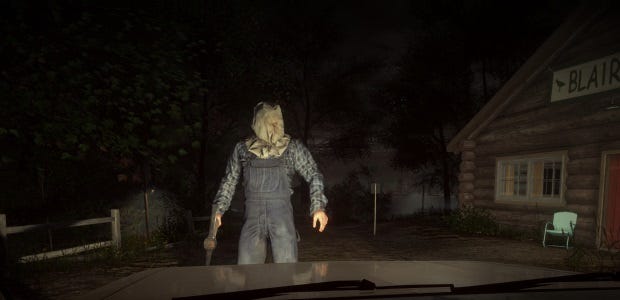 That Jason Voorhees fellow is a rather intimidating chap, I'll give you that much, but you know what's scarier? Lawyers. By all accounts, Friday the 13th: The Game was surprisingly fun when played with the right group, with room to grow as the developers released more maps, content and features. They'd been doing well up til' now, even adding bots to play against late last year, but a legal dispute over who owns the original film rights has left developers IllFonic unable to continue, and today they admitted that they've moved on to new projects entirely.
The most ridiculous thing about this whole legal mess is that it really has nothing to do with the game or its developers directly. It's fallout from a long-running legal battle between the original film's producer and writer to reclaim the rights to the film franchise. Unfortunately, this leaves the game in an awkward limbo, with the developers unsure of whether the license that they purchased is even worth the paper that they signed for it, and if the license did change hands, there's every chance they'd be forced to abandon work or pull it from sale.
A games studio is an expensive thing to run, however, and you can't just sit idly by for months, unsure whether the fog will be burnt away by the light of day, or an unstoppable killer will lurch out of it. While there were plans for some significant content updates to the game including a new map, new DLC skin packs and more murder-animations for Jason, publisher Gun Media say that there's just no reasonable way to go back to that, even if the lawsuit does eventually blow over in their favour.
Friday the 13th: The Game is available on Steam, and half price during the sale, mercilessly slashing it down to £15/$20, with the single player challenges trailered above and released in May being the last major addition.