Gang Beasts Grapples With Online Multiplayer Beta
Fight jellyfriends from afar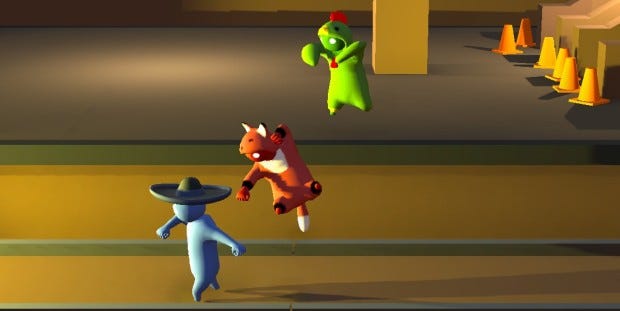 Some of you live high atop remote mountains with no other people around, which means local multiplayer game and gelatinous brawler Gang Beasts [official site] has thus far been useless to you. No more! The game of haphazard punching in comically hazardous locations now has an online multiplayer beta, so mountain-dwellers everywhere can play together - assuming you can get access.
I'm curious as to how Gang Beasts' pleasures fare when you're removed from the people you're playing against. Part of the fun is in picking up a friend, hoisting them above your head, and dawdling clumsily towards a meat grinder to a chorus of "No! No! No!". The game's level design, in which stages take place upon ferris wheels, the roofs of speeding lorries, and window cleaning gondolas, will still be wonderful, but I fear the madcap slapstick of it will fall flatter without grimacing and squealing pals alongside.
That said, despite still being in early access, we named Gang Beasts as the 21st best action game ever made. Here's what I wrote there:
Your move set is pretty simple – punch, lift, grab – but from this the most wonderfully cinematic battle stories spill out. You'll be knocked unconscious by a hit to the head, hoisted into the air by an enemy, and then wake up moments before they throw you into an abyss. You'll fight back, grabbing at your foe as they try to shake you off, punching you with their jelly arms as you grip at their jelly face. They'll shake free of you, but only by knocking you backwards into the wire supports holding the platform you're both standing on, which now collapses on one side and leaves you both gripping the rails with one arm while you continue to wildly swing with the other.
Which remains accurate. Well done, me.
Currently access to the beta is carefully controlled, but you can request entry at this distribute() page. There are instructions for how the keys are assigned over on the game's Steam page alongside details for what the beta, which only works on Windows, currently contains.