Germany relaxes ban on Nazi symbols in video games
But laws still control their use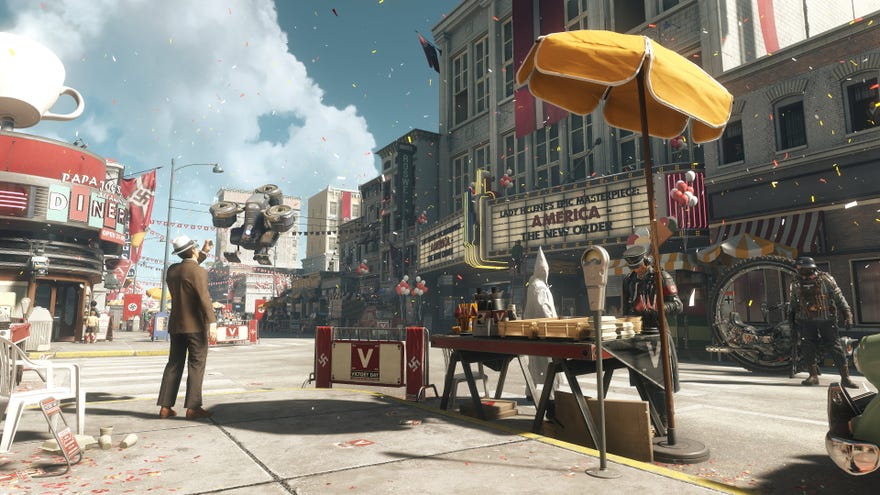 After decades of banning swastikas and such symbols of Nazis and other "unconstitutional organisations" from games, German authorities will now potentially allow them - if they serve an artistic or educational purpose. This "social adequacy" clause has allowed these symbols to be used in other artistic mediums but wasn't previously applied to video games (which only became art, as we all know, through BioShock Infinite in 2013), requiring developers to replace or otherwise remove the iconography to get a German release. This change isn't a green light for swastikas galore, as laws controlling the symbols still apply, but the German ratings board are now willing to consider their artistic merit in games.
Section 86a of the German Criminal Code forbids certain symbols used by Nazis, Neo-Nazis, the Ku Klux Klan, Islamic State, white supremacists, and so on, allowing them only in the context of art, science, research, or teaching. That exception wasn't thought to apply to video games and the German video game industry's self-regulatory ratings board, the Unterhaltungssoftware Selbstkontrolle (USK), had a blanket ban on these symbols.
Seeing as video games sure do love World War 2, this has led to a whole lot of games creating new names and symbols for Nazis. Wolfenstein II: The New Colossus even shaved Adolf Hitler to turn him into Ian NotHitler.
Today the USK announced (in a press release not yet officially translated) that they will bear the "social adequacy" clause in mind and theoretically allow such symbols. The USK say they're following suit after the Oberste Landesjugendbehörde (the state authority protecting the bairns) refreshed their interpretation of the law. Section 86a is still in force, meaning the use of symbols in games must be judged worthy, but the possibility is now open.
Given how often Nazis in video games are kooky wacko moonmen, I would not be surprised if many are judged to not be up to the standard.
The German games industry association, Game (who also organise Gamescom) have praised the USK's ruling.
"This new decision is an important step for games in Germany," Game managing director Felix Falk said in today's response.
"We have long campaigned for games to finally be permitted to play an equal role in social discourse, without exception. Computer and video games have been recognised as a cultural medium for many years now, and this latest decision consistently cements that recognition in terms of the use of unconstitutional symbols as well.
"We in the games industry are concerned about the tendencies we see towards racism, anti-semitism and discrimination. We are strongly committed to an open, inclusive society, to the values laid out in the German constitution, and to Germany's historical responsibility. Many games produced by creative, dedicated developers address sensitive topics such as the Nazi era in Germany, and they do so in a responsible way that encourages reflection and critical thinking. The interactive nature of games makes them uniquely qualified to spark contemplation and debate, and they reach younger generations like no other medium can."
Yeah, I think he's talking about more than just enjoying punching Nazis.